US schools crackdown on anthem protests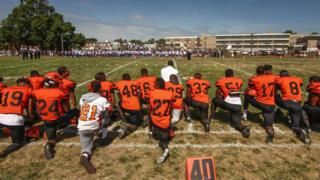 A school district in Louisiana has vowed to punish players who refuse to stand for the US national anthem, as other schools weigh in on the debate.
In their decision, the Bossier Parish School Board cited "respect and reverence" for the military, a spokesperson told the BBC.
A number of National Football League (NFL) players have protested after being attacked by the US president.
Activists say the law bans schools from punishing non-disruptive protesters.
In Louisiana, the head of Parkway High School wrote a letter on Thursday morning to parents and students vowing to suspend or remove from sports teams anyone who demonstrates while the national anthem is played.
"Failure to comply will result in a loss of playing time and/or participation as directed by the head coach and principal. Continued failure to comply will result in removal from the team," principal Waylon Bates wrote.
Team owners afraid of players, says US president
Student athletes join US national anthem protest
High school players taking a knee to take a stand
The decision was made "in light of the national conversation currently taking place", a spokesperson for the school district said in a letter to the BBC.
In Baton Rouge, the Louisiana capital, one school has decided to cancel the national anthem "amid safety concerns", an official said.
The American Civil Liberties Union of Louisiana vowed to sue the Bossier Parish school district if any students face punishment for protests.
"Schools have no valid interest in turning their students into mouthpieces of government speech, full stop," wrote executive director Marjorie Esman, citing a Supreme Court judgement from 1943.
That case, West Virginia State Board of Education v Barnette, found that it would be a violation of the constitutional right to free speech to require students to stand and recite the Pledge of Allegiance.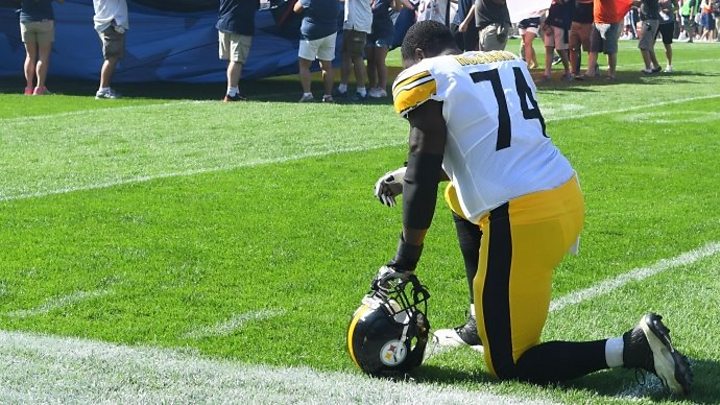 The protests began in the NFL, where players kneeled to protest racial injustice during the national anthem.
However, many Americans feel the protests were disrespectful to the American flag and US military.
The demonstrations spread after Mr Trump called last week for the players to be fired.
In New York the Diocese of Rockville Centre said students will face "serious disciplinary action" if they protest.
A coach in Tennessee told reporters "we are not giving our kids the option to kneel".
Meanwhile, Mr Trump has continued to attack NFL players and their teams.
He said on Fox News on Thursday morning that team owners are "afraid of their players, you want to know the truth".