Melania Trump book donation snubbed by US librarian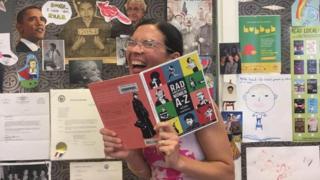 A librarian at a primary school in the US state of Massachusetts has rejected a donation of books from First Lady Melania Trump.
The librarian wrote a blog criticising Mrs Trump's literary choices, including children's favourites by Dr Seuss.
Liz Phipps Soeiro, of Cambridgeport Elementary School, also criticised the Trump administration's policies.
The White House picked one school from each US state to receive 10 books as part of National Read a Book Day.
Mrs Trump said in a letter to the children who will receive the books: "Getting an education is perhaps the most important and wondrous opportunity of your young lives."
But in a lengthy editorial for the Horn Book's Family Reading blog, Ms Phipps Soeiro explained why her school does not need the books, while thanking the first lady for her gesture.
"My students have access to a school library with over nine thousand volumes and a librarian with a graduate degree in library science," she wrote.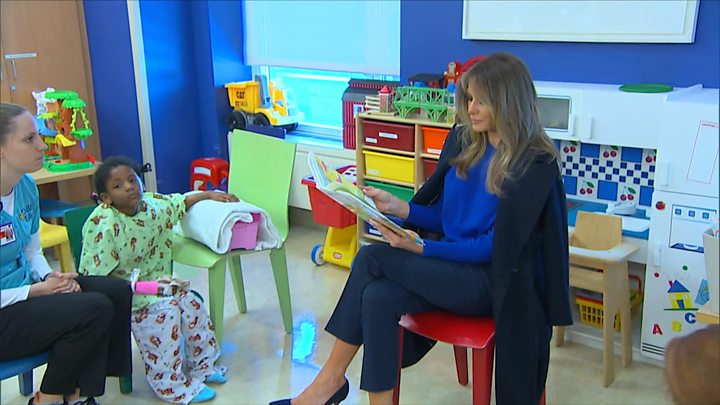 Her editorial disparaged the first lady's book selections, which included Green Eggs and Ham, Oh, the Places You'll Go! and The Cat in the Hat.
"You may not be aware of this," wrote Ms Phipps Soeiro, "but Dr Seuss is a bit of a cliché, a tired and worn ambassador for children's literature.
"As First Lady of the United States, you have an incredible platform with world-class resources at your fingertips."
Melania mocked after anti-bullying speech
Gigi Hadid apologises for mocking Melania
Ms Phipps Soeiro went on to criticise the US education secretary.
"Why not go out of your way to gift books to underfunded and underprivileged communities that continue to be marginalized and maligned by policies put in place by Secretary of Education Betsy DeVos?" she wrote.
The Cambridge school district said its views are not represented by the editorial.
"The employee was not authorized to accept or reject donated books on behalf of the school or school district," it said in a statement.
"We have counseled the employee on all relevant policies, including the policy against public resources being used for political purposes."