Ryan Zinke: US interior secretary 'spent $12,000 on flight'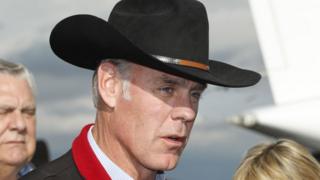 A row over Trump administration officials' use of charter flights for business trips has deepened amid reports of Interior Secretary Ryan Zinke's use of the costly option.
Mr Zinke flew from Las Vegas to Montana last June on a private jet that cost taxpayers more than $12,000, according to Politico and the Washington Post.
Earlier, Health Secretary Tom Price apologised for his private plane trips.
He said he would reimburse taxpayers and fly commercial in future.
According to political news website Politico, Mr Price's travels have already cost the US taxpayer more than $1m (£750,000).
The figure includes the cost of military aircraft used for Mr Price's trips abroad, and his use of private jets for domestic flights, Politico added.
President Trump, who had earlier said he was "not happy" with the expense, said he would decide on Mr Price's future shortly.
"He's a very fine man. We're going to make a decision sometime tonight," he told White House reporters. "He's a very, very fine man."
---
Why this hurts Trump
Anthony Zurcher, BBC News, Washington
Now that the "Price-tag" for the health secretary's private air travel has passed the million-dollar mark - with reports that other administration officials have a similar penchant for the Learjet lifestyle - the issue is metastasising from embarrassing to full-blown scandal.
The reason this story particularly damages the White House is it cuts against one of Donald Trump's strengths and key campaign promises - that he has the business acumen to rein in runaway government spending, waste and abuse.
What's more, Mr Price and EPA head Scott Pruitt have proposed drastic cuts to the budgets they oversee. For them to drop big dollars to avoid elbow-rubbing with the masses makes for painful headlines and fosters resentment within government ranks.
Mr Price's promise to pay for the cost of "his seat" on those flights is already being decried as not good enough. It's the equivalent of buying an aged porterhouse steak on the federal dime and reimbursing for a hot dog.
At some point, lest the White House appear responsible for creating a culture of profligacy, the president is going to have to do more than express dissatisfaction over these revelations. He will have to take action.
---
As well as the Vegas-Montana trip - a route served by commercial flights - Mr Zinke is also reported to have used private jets between St Croix and St Thomas in the US Virgin Islands in March, and a military aircraft to travel to Norway in May.
US government officials are expected to take commercial flights for work-related travel, unless they are dealing with national security matters.
"As with previous interior secretaries, the secretary travelled on charter flights when there were no commercial options available," interior department spokeswoman Heather Swift said in a statement.
"All travel is pre-approved by the ethics office before booking and the charter flights went through an additional level of due diligence."
Two other members of Mr Trump's cabinet are under scrutiny by inspectors for their use of private planes while on the job:
Treasury Secretary Steven Mnuchin is accused of flying with his wife to view last month's solar eclipse
Environmental Protection Agency chief Scott Pruitt has spent more than $58,000 on non-commercial travel
Republican Senator Chuck Grassley, responding to the latest revelations, urged Mr Trump "to emphasise to cabinet secretaries the necessity of using reasonable and cost-effective modes of travel in accordance with federal restrictions".