US pulls staff from Cuba over 'specific attacks'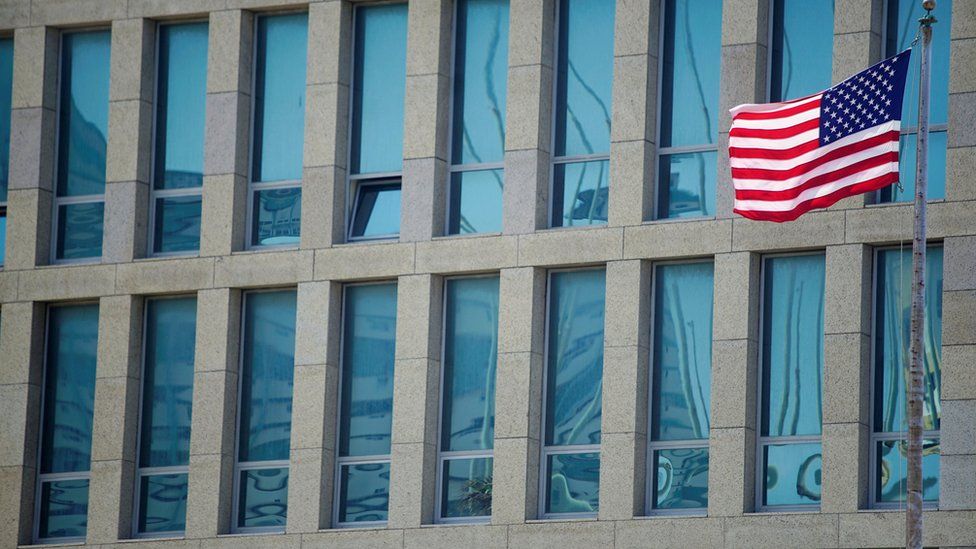 The US is withdrawing more than half of its staff at its embassy in Cuba in response to mysterious attacks which left its diplomats unwell.
Washington is also warning Americans not to visit the country because some attacks occurred in hotels.
At least 21 staff reported health problems ranging from mild brain trauma and deafness to dizziness and nausea.
Describing the US decision as "hasty", Cuba said it would affect bilateral ties but co-operation would continue.
US Secretary of State Rex Tillerson said the two countries would continue to co-operate in investigating the attacks and said diplomatic ties would be maintained.
Earlier reports suggested that sonic attacks were to blame. Cuba denies any involvement.
At least two Canadians were also affected.
The US is ordering all non-essential staff in the embassy in Havana to leave, along with all family members. Only "emergency personnel" will remain.
The US has suspended visa processing in Cuba indefinitely.
"Until the government of Cuba can ensure safety of our people, we will be reduced to emergency personnel," a US state department official said.
What do we know about the attacks?
"At least 21 employees have been targeted in specific attacks," the official said.
Despite an investigation involving the FBI, the Royal Canadian Mounted Police and the Cuban authorities, there is still no full explanation as to the cause of the incidents since late 2016.
"We don't know the means, the methods or how the attacks are being carried out," the official said on Friday.
Late 2016: US embassy staff and at least one Canadian began to notice symptoms
May: US expels two Cuban diplomats for failing to protect its diplomats
August: US says 16 employees have been treated but attacks seem to have stopped
Early September: US says attacks are continuing and 19 staff members have now been hurt
29 September: Washington pulls diplomatic staff, warns US citizens not to visit and says 21 embassy employees now injured
But earlier reports suggested they were sonic attacks in which staff in Havana were targeted by audio waves, leaving several with chronic hearing issues.
Using an inaudible sound device for a stealth attack "is quite plausible from a technical point of view", Denis Bedat, a specialist in bio-electromagnetics, told AFP news agency this week.
"Ultrasonic waves, beyond the acoustic capacity of humans, can be broadcast with an amplifier, and the device does not need to be large, or used inside or outside a house."
He gave as an example the Active Denial System (ADS), an anti-riot gun used by US police forces that emits electromagnetic waves which produce a sudden unbearable burning sensation.
Who is behind the attacks?
The US has not blamed Cuba for the suspected attacks.
Both the US and Cuban governments "have not yet identified the guilty party", the state department official said.
"We have not ruled out the possibility of a third country as a part of the investigation but that investigation continues," the official added.
How have US relations with Cuba been?
President Raul Castro had reportedly given his personal assurance to the then-US charge d'affaires in Havana that Cuba was not behind the attacks.
The US reopened its embassy in Havana in 2015 following decades of frozen relations.
In 2016 President Barack Obama became the first sitting US president to visit Cuba since Calvin Coolidge in 1928.
In June President Donald Trump announced a partial roll-back of Mr Obama's Cuba policies but said he would not close the US embassy in Havana.
One resident of Havana, Andres Murci, told Reuters news agency: "With the new Trump administration, everything has been lost, everything has gone backwards. We are turning back to the same thing we had before. Everything we advanced with Obama has now turned back."