Las Vegas: 'We helped three gunshot victims'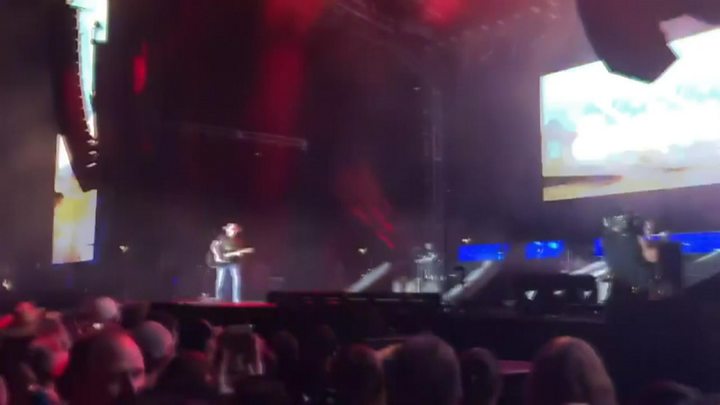 At least 58 people have been killed and almost 500 injured in a mass shooting at a Las Vegas concert.
A gunman opened fire from the 32nd floor of the Mandalay Bay Hotel toward an open-air music festival being held close by.
Eyewitnesses describe the moments they realised there was a gunman in the area.
Crystal from California was at the concert with some of her family. She describes helping three people with gunshot wounds.
"I could see the bullets ricocheting off the gravel on the floor, so we ran. We ran to our pick-up truck which wasn't far away.
"As we tried to make our way out of the parking lot a security guard flagged us down. He had two gun shot victims with him.
"We got them in the back of the truck. One had been shot in the head the other in the ankle, both were conscious.
"We tried to get out of the area as fast as possible but it was chaos, people were running everywhere and into the road."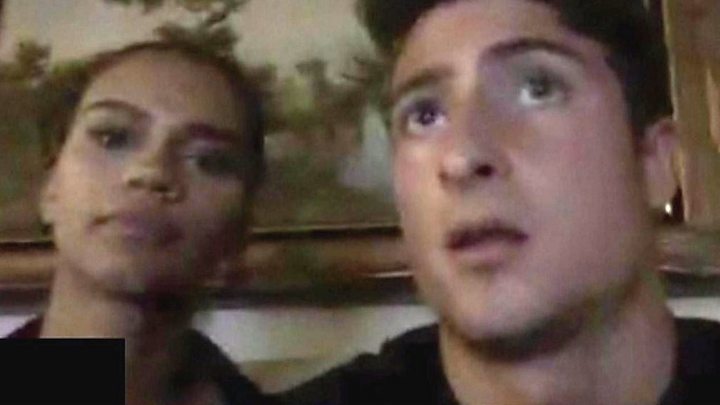 Crystal wanted to get the wounded to a hospital but they didn't get far before being flagged down to help another injured concert goer.
"The woman had been shot and was unconscious, she was in a bad way. We were trying to help her as much as possible but we realised she needed help fast.
"We saw some ambulances and drove towards them so the paramedics could help her and the other victims."
Fifteen people spent the night with Crystal and her family in the apartment they were renting, she said: "We didn't know 10 of the people with us but they all stayed overnight."
Tony Richardson from Manchester was made to stay in the basement area of Caesars Palace before being allowed to leave.
"There was pandemonium at Caesar's Palace, we heard someone shout, 'Get out, get out.'
"We were ushered to the exit near to the basement where we had to stay for our safety.
"Then we were told to go up into the lift to one of the management floors.
"There was about 100 of us, including children," he says.
"After around 45 minutes to an hour we were told we could stay there or go to the Casino."
"We chose the casino, it was getting claustrophobic in the small space we were in.
"We were held in the casino area for around two-and-a-half hours before being allowed to leave.
"The Strip was empty, I have never seen it like that before. It was eerily quite."
'Rumours circulated'
Another holiday maker, Didier Perez, from Texas, is on the third floor of the Excalibur Hotel and Casino, close to Mandalay Bay.
"We were leaving a magic show and approaching the Excalibur when we saw people crying and hugging each other," he says.
"I saw some people with blood on them. People were in shock and they were crying."
Didier says he went to the Excalibur and the hotel was locked down shortly afterward.
"There was mass panic, people were running in the hotel as rumours circulated that there were shooters but that was a false alarm. It didn't stop the hysteria though.
"We were in the casino lobby when the SWAT team showed up trying to secure the area.
"Now we have been moved to the third floor conference rooms.
"Those of us who do not have booked rooms are being given blankets to sleep here tonight."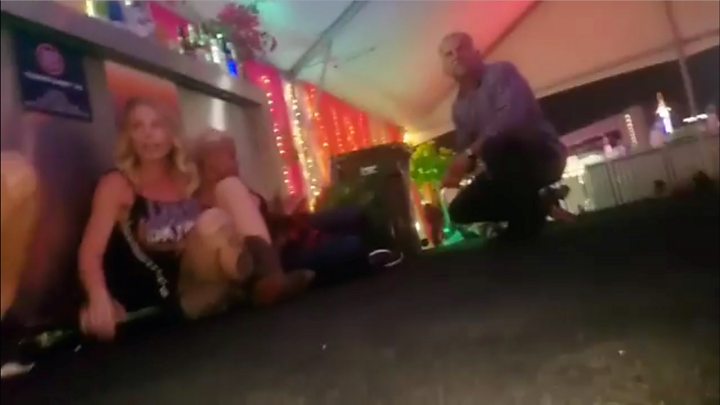 Joginder Tuteja from Delhi, India, is on holiday with his wife. He said they took refuge inside the Planet Hollywood Resort and Casino.
"We were at a cafe facing the Strip close to Mandalay Bay.
"Suddenly we saw people running. There was panic and the cafe staff ushered us inside.
"From there we were escorted to a lobby area at the back of the cafe," he says.
"Shortly after we were all advised to get inside the Planet Hollywood hotel which was nearby.
"That was deserted. We sat down on the floor and were given bottles of the water."
'People were panicking'
Mike Thompson from London says he ran for safety when he heard gunshots.
"We were walking back to our hotel - the MGM - after dinner and we saw people running towards us in total panic.
"One man had blood all over him and that's when I knew something was seriously wrong.
"I could heard automatic gunfire so I grabbed my partner and we ran to the backstreets.
"People were running and there was chaos as they tried to get into bars for safety, drinks were flying everywhere and people were panicking.
"There were police helicopters and dozens of ambulances going down the Strip.
"We stayed on the backstreets and finally got to our hotel safely. It was very scary."
Interviews and written by Rozina Sini, UGC and Social News