Las Vegas shooting - what we know so far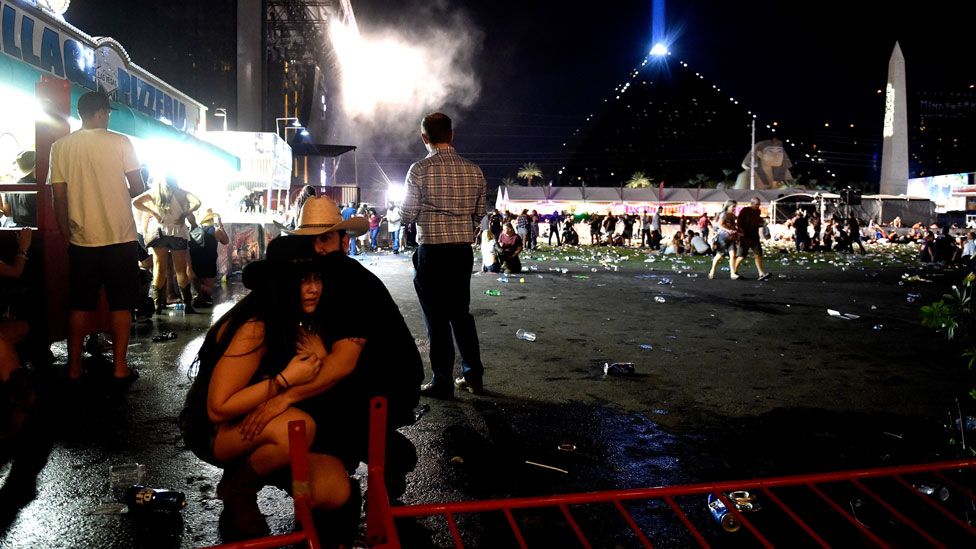 Police are trying to work out what drove a wealthy former accountant to open fire on concertgoers in Las Vegas, killing at least 58 people and injuring almost 500.
The gunman, Stephen Paddock, 64, set up a firing point in a hotel overlooking an open-air music festival, and shot himself dead as police stormed his suite.
Some 22,000 people were attending a country music festival late on Sunday, 1 October, in the open air by the Las Vegas strip.
The first shots rang out at around 22:05 local time (05:05 GMT) and continued at a rapid rate in sustained bursts for 10 minutes.
Paddock was firing from a suite on the 32nd floor of the Mandalay Bay Hotel. He had some 23 weapons with him and had set up cameras both inside and outside the suite to see anyone approaching the room, police said.
Witnesses described hundreds of shots being fired. What sounded like automatic gunfire can be heard on videos from the scene.
There are reports that Paddock was using a "bump stock" - a modification to a weapon that can enable it to fire hundreds of rounds a minute.
There was panic as people ran from the venue and tried to take cover. Amid the chaos there were reports of other incidents at different locations along the Las Vegas strip, but police later said they were false.
At 22:15, the last shot was fired. Three minutes earlier, an officer on the 31st floor of the Mandalay Bay Hotel identified the gunman's location on the 32nd floor.
Officers reached the 32nd floor at 22:17, finding an injured security guard, another of Paddock's victims. Police later revealed that the security guard had been shot at 21:59, six minutes prior to Paddock opening fire on concert goers.
Paddock's suite was stormed at around 23:20. Earlier reports said police killed the gunman, but it was later confirmed he had shot himself dead.
Paddock lived in a retirement community in Mesquite, Nevada. Police have not yet said anything about what drove the 64-year-old to commit mass murder.
The authorities said he had pilot's and hunting licences, and no criminal record. One former neighbour said Paddock was a professional gambler and "weird".
Police found "in excess of" 19 firearms and thousands of rounds of ammunition in his Mesquite home, while explosives were found in the property and his car.
Las Vegas Sheriff Joseph Lombardo said: "We have no investigative information or background associated with this individual that is derogatory.
"The only thing we can tell is that he received a citation several years ago, and that citation was handled as a matter of normal practice in the court system."
Officers believe Paddock had been living in the hotel since 28 September.
His brother Eric Paddock told Reuters news agency: "We have no idea (about a motive). We're horrified. We're bewildered and our condolences go out to the victims."
The so-called Islamic State group said it was behind the attack and that the attacker had converted to Islam several months ago, although they offered no evidence.
The FBI said it had found "no connection" with international terrorism.
There was an appeal to find another "person of interest" named Marilou Danley, 62, who officials said was travelling with the gunman before the shooting.
She returned to Los Angeles from the Philippines on Tuesday night and was met by federal agents. Reports said Paddock had transferred US$100,000 (£75,400) to her in the Philippines before Sunday's shooting.
Meanwhile, Paddock's brother Eric said their father was a bank robber who was once on the FBI's Most Wanted list.
How many people have been killed?
Paddock killed 58 concert-goers and injured nearly 500 others. Initially, police released slightly higher figures for both dead and injured.
The attack is the worst mass shooting in the United States since Omar Mateen opened fire at a gay nightclub in Orlando, Florida, killing 49 in June 2016.
What has the president said?
At a White House news conference on Monday, President Donald Trump called the shooting "an act of pure evil". He also praised Las Vegas police for preventing further deaths, saying they acted with "miraculous" speed, but has refused to be drawn on America's controversial gun laws.
On Tuesday, he described the shooter as a "sick man, a demented man". He will visit the city on Wednesday.
Mr Trump initially tweeted about the attack.
Skip twitter post by Donald J. Trump
My warmest condolences and sympathies to the victims and families of the terrible Las Vegas shooting. God bless you!

— Donald J. Trump (@realDonaldTrump) October 2, 2017
The BBC is not responsible for the content of external sites.
End of twitter post by Donald J. Trump
Speaking to the Las Vegas Review-Journal, friends identified an off-duty Las Vegas police officer who died in the attack as 34-year-old Charleston Hartfield. He was a military veteran who also coached youth football.
The Tennessean reports the death of Sonny Melton, 29. His wife, Heather, says the nurse from Big Sandy saved her life by grabbing her as the shooting started.
"He grabbed me and started running when I felt him get shot in the back," she told WMV-TV in Nashville.
A Navy veteran who had recently returned from Afghanistan is also reported to have died at the concert. Chris Roybal, 28, from Southern California, was with his mother but they had been separated and she ran towards the gunfire to try and find him.
"He went to combat and came back without being injured, and then goes to a concert and dies," she told NBC4.
A special education teacher, a home builder, a cheerleader, and a bus driver are all reported to have died in the attack.
You can read more about the victims here.