Stephen Paddock: Vegas suspect a high-roller and 'psychopath'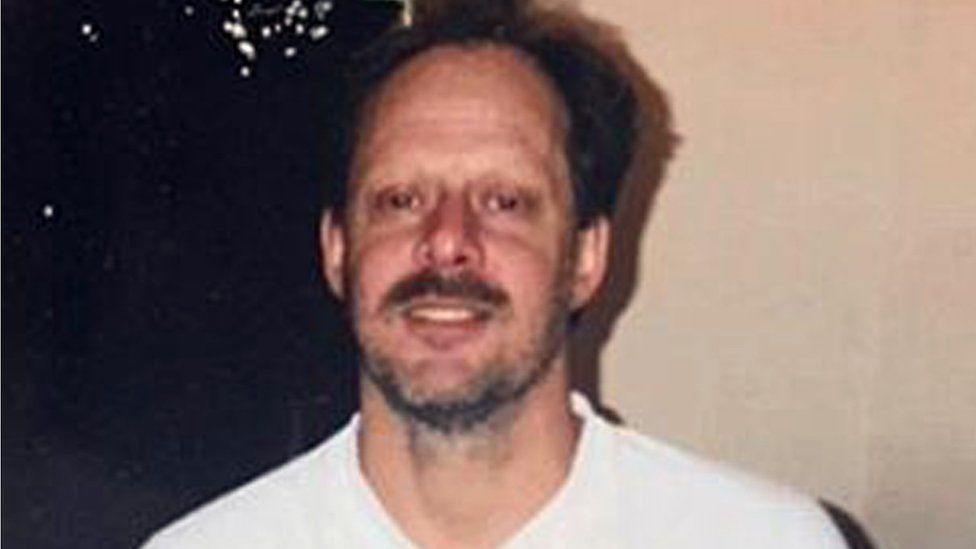 Las Vegas concert gunman Stephen Paddock was a wealthy former accountant and high-stakes gambler who appeared to be living in quiet retirement with his girlfriend in a desert community.
The 64-year-old, of Mesquite, Nevada, had pilot's and hunting licences and no criminal record, said authorities.
One former neighbour said twice-divorced Paddock was "weird".
But his brother described him as a regular guy who liked playing video poker, live music and eating burritos.
Paddock has been identified by police as the man behind the deadliest mass shooting in modern US history, with the death toll surpassing the 49 killed at a nightclub in Orlando, Florida, in June 2016.
He opened fire from the Mandalay Bay Hotel and Casino on Sunday night, killing 58 people and wounding almost 500 others, before turning the gun on himself as police closed in, said officials.
Stephen Paddock had a troubled childhood, with a bank robber for a father, who regularly beat him, and a mother who struggled to bring him and his three brothers up, according to reports.
One of the gunman's brothers, Eric Paddock, told reporters the family were stunned.
"He liked to play video poker," he said. "He went on cruises. He sent his mother cookies."
Their father was once on the FBI's 10 Most Wanted list.
Twenty-three weapons were found in the 32nd-floor hotel room that Paddock checked into last Thursday.
Police found "in excess of" 19 firearms and thousands of rounds of ammunition in his Mesquite home, within a quiet retirement community 80 miles (130km) north-east of Las Vegas.
They also found several pounds of an explosive called tannerite, and ammonium nitrate, a type of fertiliser used as an explosive, in his car.
From 1976 to 1985 worked as a postman, an Internal Revenue Service agent and an auditor for the Defense Contract Audit Agency
Worked for the predecessor company of Lockheed Martin in the 80s
Maintained relations with his younger brother Eric but estranged from older brothers Bruce and Patrick
Grew up in Sun Valley, California, and attended California State University in Northridge
He was married twice and had no children
Sources: US media reports
Police said no manifesto or anything else had been discovered to explain Paddock's actions.
"I can't get into the mind of a psychopath at this point," Sheriff Joseph Lombardo said.
The FBI said its agents had established no connection between Paddock and any overseas terrorist group, despite so-called Islamic State describing him as a "soldier of the caliphate".
Paddock only previous known brush with the law was a routine traffic violation.
David Famiglietti, of the New Frontier Armory, told the BBC that Paddock had purchased firearms at his store in north Las Vegas last spring, meeting all state and federal requirements, including an FBI background check.
However, the shotgun and rifle Paddock bought would not have been "capable of what we've seen and heard in the video without modification", Mr Famiglietti said.
Two gun stocks were found in the hotel room, AP news agency reported, which can enable a weapon to fire hundreds of shots per minute.
According to NBC News, Paddock recently made several gambling transactions in the tens of thousands of dollars, but it was unclear if those bets were wins or losses.
Bruce Paddock told NBC his brother was a multi-millionaire property investor.
He had shown no sign of financial problems and reports said he owned a number of properties that he rented out.
Separately, Eric Paddock said that Stephen came up with the cash to ensure that family members - including their elderly mother - were provided for.
He described his brother as "intelligent" and "successful."
Stephen Paddock moved to his two-storey house in Mesquite from Reno, Nevada, in June 2016.
He lived in the property in Babbling Brook Court with his girlfriend Marilou Danley, 62.
Police have ruled out any involvement by Ms Danley, who was overseas at the time of the massacre but has now returned to the US, where she is facing questioning.
She is an Australian citizen who moved to Nevada 20 years ago, the government in Canberra said.
"He was weird," she said. "Kept to himself. It was like living next to nothing.
"You can at least be grumpy, something. He was just nothing, quiet."
Elsewhere the newspaper quoted neighbours in "several states" where Paddock owned retirement homes, describing him as "surly, unfriendly and standoffish".
But those who lived close to a house he owned in Melbourne, Florida, have described him as "very friendly".
According to US media, Paddock had a licence to fly small planes and owned two aircraft.
In 2012, he filed a negligence lawsuit against The Cosmopolitan hotel in Las Vegas, after a fall he said was caused by an "obstruction" on the floor, the Las Vegas Review Journal reported.
The legal action was reportedly dropped in 2014.
The relative lack of red flags in Paddock's personal history has only heightened the sense of bewilderment as a shocked nation asks: Why?