Las Vegas shooting: What do we know about Marilou Danley?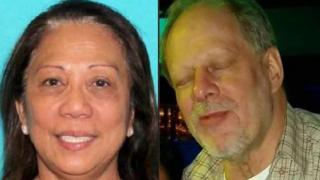 Marilou Danley, the girlfriend of gunman Stephen Paddock, has become the focus of attention in the US investigation into the Las Vegas mass shooting.
Through her lawyer, she expressed shock at what she called the "horrible unspeakable acts of violence" and said she would co-operate with investigators.
She said she knew Paddock as a "kind, caring, quiet man. I loved him and hoped for a quiet future together with him".
"He never said anything to me or took any action that I was aware of that I understand to be a warning that something horrible like this would happen," she went on to say.
Ms Danley's statement came after she arrived back in the US from the Philippines, where she was reportedly born.
She said in her statement that Paddock had surprised her with a cheap ticket to the Philippines two weeks ago, saying he wanted her to visit her family.
She confirmed that while she was there he had wired her money - reports say it amounted to $100,000 (£75,400) - and she "worried it was a way for him to break up with me".
"It never occurred to me in any way whatsoever that he was planning violence against anyone," she said.
Ms Danley has been named a "person of interest" but police have said she is not a suspect and is wanted only for questioning about Paddock.
Friends and neighbours have described Ms Danley as a warm and chatty person who has lived and travelled around the world. The 62-year-old is believed to have one daughter and a granddaughter.
In her statement, she said: "I am a mother and a grandmother and my heart breaks for all who have lost loved ones."
She moved to Queensland in Australia some time in the late 1970s, according to Australian media, and married a local man.
They lived together for about 10 years until the late 1980s, and it was during this period that she became an Australian citizen.
Shortly afterwards she moved to the US where she married American Geary Danley in 1990.
In 2015, she and Mr Danley filed for divorce. She appears to have had met Paddock by that stage, as in her divorce papers she listed Paddock's apartment as her address.
Ms Danley has held various jobs over the years, including working for an airline and selling Avon cosmetics, reported The Washington Post.
She also worked as a casino hostess attending to "high-limit" players, such as Paddock, whom she reportedly met at the Atlantis Casino Resort Spa.
US police say she has been living in Nevada with Paddock, who was described as having loved and "doted on" Ms Danley.
Her sisters in Australia have since told 7 News they believed he "sent her away" to the Philippines prior to the shooting.
Ms Danley is now in US federal agents' custody, and investigators will want to know if she can shed any light on why Paddock carried out the worst mass shooting in recent US history.
An earlier version of this article referenced a Newsweek story that suggested Ms Danley had married Jose Bustos in 1996. The magazine has since retracted that story and said it was a mistake.