Pro-life congressman to retire after 'urging lover's abortion'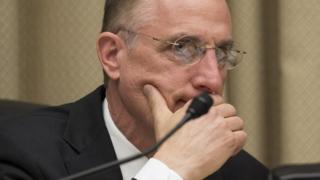 An anti-abortion US lawmaker reportedly asked a woman with whom he was having an extramarital affair to terminate the pregnancy.
Tim Murphy's lover suggested he was a hypocrite when he allegedly proposed she get an abortion during a pregnancy scare, a Pittsburgh newspaper reports.
In texts, the Pennsylvania Republican reportedly told her he "winced" over his public anti-abortion stance.
On Wednesday, Mr Murphy said he would not seek re-election.
His announcement came just a day after he voted for a bill that would outlaw abortions after 20 weeks.
The Pittsburgh Post-Gazette reported it had obtained text messages between the married congressman and his lover, forensic psychologist Shannon Edwards.
The lawmaker earlier this month acknowledged his affair with Ms Edwards after it became public in her divorce proceedings.
According to the newspaper, she sent him a text on 25 January reminding the congressman he had "zero issue posting your pro-life stance all over the place when you had no issue asking me to abort our unborn child just last week when we thought that was one of the options".
She sent the text after seeing a Facebook post by Mr Murphy lamenting US abortions and saying: "It is a tragic shame that America is leading the world in discarding and disregarding the most vulnerable."
A text reply reportedly sent from Mr Murphy's mobile phone maintained it was his staff who were behind the anti-abortion rhetoric, not him.
"I get what you say about my March for life messages," he wrote.
"I've never written them. Staff does them. I read them and winced. I told staff don't write any more. I will."
It turned out the pregnancy scare was a false alarm, reports the Post-Gazette.
Mr Murphy's office did not respond to a request for comment from the BBC.
But on Wednesday evening he announced in a statement: "After discussions with my family and staff, I have come to the decision that I will not seek reelection to Congress at the end of my current term.
"I plan to spend my remaining months in office continuing my work as the national leader on mental health care reform, as well as issues affecting working families in southwestern Pennsylvania."
A day earlier the congressman voted in favour of a Republican bill that would criminalise abortions performed after 20 weeks of foetal development.
Mr Murphy, a member of the House of Representatives Pro-Life Caucus who is in his eighth term, was a co-sponsor of the bill.
He has been praised by the Family Research Council, a conservative Christian lobby group, for his stance on abortion and family values.
Mr Murphy's anti-abortion bill is expected to fail in the Senate, where Democrats have enough votes to stop the measure.
He is not the only lawmaker to be accused of hypocrisy on the abortion issue.
Tennessee Republican lawmaker Scott DesJarlais repeatedly voted for anti-abortion measures, but it was revealed in 2012 that he had asked his ex-wife to have two abortions, according to court papers from his 2001 divorce.
The former doctor also reportedly urged a 24-year-old patient with whom he was having an affair to get an abortion, according to the Chattanooga Times Free Press newspaper, citing the court transcripts.