What does Las Vegas want Trump to do in wake of shooting?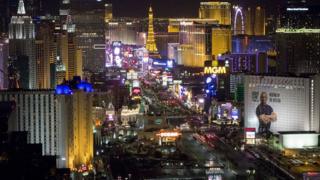 In the aftermath of the country's deadliest gun attack in modern times, many in the US are looking to the president for answers. But as he visited Las Vegas, did he provide them?
On Sunday night, as the horror unfolded at the Route 91 country music festival, Bob and Heidi were serving pizzas.
They'd travelled from their home state of Arkansas to work at the concert, when they heard the sound of bullets.
As they took shelter in the food stand, with the heat of the pizza oven behind them, they helped people leave the venue to safety.
Still shaken by what happened, they, like so many people here in Las Vegas, are trying to work out what, if anything, could have been done to prevent the atrocity.
"It's not the guns, it's more the people who own the guns," says Bob, who thinks there should be better checks on the mental health of buyers.
Earlier this year, and to little fanfare, President Trump rolled back an Obama-era regulation that would have prevented people with some serious mental illnesses buying a gun.
It's a move his supporters I've met here are at odds with.
"It's not the gun doing it, it's the mind of the individual," says Crystal, a Trump voter from Branson, Missouri.
"Everybody should have the right to carry a weapon, but that doesn't justify somebody going crazy," she says, pointing out that she carries a firearm when she's back home.
"I carry a gun, and I haven't shot anybody," she adds.
Crystal does believes the constitutional right to bear arms should come with some conditions.
Before she received a permit for her weapon she was required to take a "conceal and carry course", which taught her how to use the gun safely.
But the law in her home state changed at the start of this year - in Missouri you no longer require a permit to carry a concealed gun.
She believes this should be reversed, and also that if someone wants a gun they must be trained in how to use it responsibly.
Her husband Terry, who also voted for Donald Trump, suggests another area where there should be tighter restrictions.
Police say they found what are known as "bump-stock" modifications on 12 rifles in Stephen Paddock's room. These legal devices allow people to modify a semi-automatic gun, turning into an automatic weapon, which can fire multiple rounds at a time.
Semi-automatic weapons, such as the AK-47 and Colt AR-15, are also legal. It was these kinds of weapons that were used in the massacres at Sandy Hook, Newtown and Orlando, and it appears these kinds of weapons were modified for Sunday's shooting.
Terry argues these, and any sort of automatic weapon, which allows the firing of multiple rounds at once, should be banned.
"I believe in gun rights, but does a person really need an assault rifle?" he asks, incredulously.
The same question is also on the mind of Diane Quast, from Tennessee, who is outside the Mandalay Bay hotel where the attack took place.
As she stared out past the yellow police tape which has closed the surrounding roads, she could see the two broken windows on the 32nd floor, from where Paddock carried out his murderous rampage.
"I definitely support gun control," she said. "I am truly hoping that in the wake of this tragedy, something will come of it."
In the wake of every recent mass shooting, she has hoped politicians would heed the calls of millions like her and restrict access to firearms.
But just as there are many people like Diane, there are many who feel the real issue has nothing to do with legislating gun ownership.
"I don't think President Trump needs to say anything about gun control," says Bob, from Harrisburg, Pennsylvania.
"I don't believe gun control is going to stop these kinds of attacks. They need to have better security screening when you enter hotels."
More than 20 firearms were found in Stephen Paddock's hotel suite. Reports say he carried them up to his room in at least 10 suitcases.
Bob argues that metal detectors at the entrance of the hotel would have prevented this from ever happening.
It's a view a few people I've met here have echoed. In cities like Mumbai and Jerusalem you have to go through airport style security checks to enter many hotels and public buildings. In India the changes came in after the 2008 Mumbai terror attacks which left 174 people dead.
Now as every vehicle enters a large hotel in a major Indian city, it is scanned for bombs underneath, and the back of the car is checked for weapons.
As I leave the Vegas strip, Denise Murphy and Quanetta Suggs from Indiana remind me how conflicted this nation is when it comes to guns.
"The president just needs to make it harder for people to purchase guns. Full stop," says Denise. "Everyone should not be able to get their hands on one."
Everyone I've met in Vegas agrees Paddock should never have been allowed to access so many weapons or indeed modify them. But a solution is harder to pin down.
President Trump's words in the wake of the shooting will provide some comfort to many who are hurting in the wake of this tragedy.
But the greater challenge for his presidency is to heal the deep divisions over firearms, which have plagued this nation for generations.
This isn't the first time the country has grappled with this issue in the wake of a mass shooting, and it's probably not the last.