Canada province to ban abortion protests outside clinics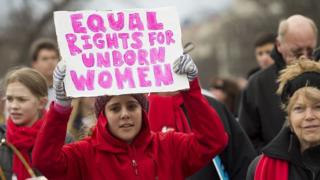 A Canadian province is tabling legislation that would make it illegal to protest outside abortion clinics.
Ontario's attorney general announced on Thursday that the government will introduce the Safe Access to Abortion Services Act.
If passed, the legislation would create "safe access zones" around abortion clinics as well as the homes of staff.
Anti-abortion activists would not be allowed to protest within at least 50m (164ft) of a clinic or staff residence.
British Columbia, Quebec, and Newfoundland and Labrador have already enacted safe access zone laws.
"Our government is standing up for every woman's right to choose, and protecting the safety of abortion service providers," said Ontario's Attorney General Yasir Naqvi in a news release.
"The proposed safe access zones would mean that patients, visitors and staff are able to enter and depart from clinics and facilities that provide abortion services in a manner that protects their safety, security, health and privacy."
The "safe access zones" could be extended from 50m to 150m by application; the law would also allow hospitals and pharmacies that provide abortion services to apply for a safe zone.
In addition to the zone around clinic staff's residence, the law would protect clinic staff from "harassment" everywhere they go in Ontario.
Those convicted of violating the law would face a C$5,000 ($4,000, £3,000) fine and/or six months in prison for a first offence, or a fine of between C$1,000 and C$10,000 and up to one year in jail for second and subsequent offences.
Mr Naqvi told media he was moved to act when a woman was spat on outside an Ottawa clinic where protesters frequently gather, carrying graphic signs and chanting slogans.
Pro-choice advocates have been pushing for the law for some time, but anti-abortion activists say it takes away their right to free speech.
"I find it ignorant for the attorney general of Ontario to suggest that abortion is a right," anti-abortion researcher Anna Nienhuis told the Ottawa Citizen.
"He should know better, and he has definitely crossed a line by suggesting that this fabricated right can undermine fundamental freedoms."