Train crashes into sleeping man's bedroom in Atlanta, Georgia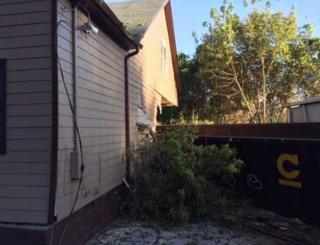 A man sleeping in his bedroom was injured when a freight train came off the tracks in Atlanta, Georgia, sending a carriage smashing into his home.
The derailment, at around 03:00 local time (07:00 GMT) on Thursday, pushed the house off its foundations, and left the unidentified man trapped inside.
"You're sleeping in your bed, and you hear a large rumble and then you hear a large crash," a firefighter said.
The man was rescued and transported to hospital with minor injuries.
Officials have not yet determined what caused the CSX train travelling from Georgia to Ohio to derail in northwest Atlanta.
Atlanta fire department spokesman Cortez Stafford told reporters that 14 train cars came off the track, and one entered the man's home by about 5-10ft (1.5-3m).
The carriages were not carrying hazardous material, so authorities did not order an evacuation, he said.
He told reporters that the car, which was carrying rocks and sand, "did push a lot of the home out the other side".
"So he's very fortunate that he's alive right now," Mr Stafford added.