US kidnapping: Man gives $9,000 reward money to victim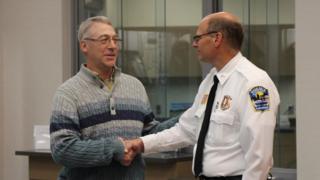 A man who helped a US teenager in her dramatic escape from three kidnappers has given his reward money of about $9,000 (£6,800) to her and her family.
Earl Melchert said that 15-year-old Jasmine Block and her relatives were more deserving of the cash than him.
Ms Block was held captive for 29 days in Minnesota and had been sexually and physically assaulted, police say.
But she escaped from the house where she was being held and swam across a lake to get to Mr Melchert's home.
"I thought at first it was a deer," Mr Melchert said.
The teenager knocked on the doors of several houses without anyone answering, before deciding to complete the swim and reach Mr Melchert's residence, the New York Times reported.
"I could make out her face, and I went, 'Oh my gosh, this is the girl from Alexandria that's been gone for 29 days'," he said.
Police say that she was abducted in August by Thomas Barker, 35, a family acquaintance who told her that he needed help with a "family situation".
The teenager accompanied Mr Barker in his car - and when they arrived at his home, he allegedly tied her up with zip ties.
For the next four weeks Mr Baker and two other men sexually and physically assaulted her, police say.
They are alleged to have threatened her with weapons at various different addresses within the vicinity of Mr Melchert's home.
But Ms Block was able to escape when she ended up in an abandoned house near Mr Melchert's property in early September - after the men had left her alone for the first time in order to get some food.
The Alexandria Police Department on Friday offered Mr Melchert his reward money, but he refused to accept it.
"He believes that young lady that came running towards him that September day is the real hero and without hesitation, Earl handed the reward over to her, followed by a big hug," the department said on Facebook.
"Thank you Earl, it is people like you that make this world a better place."
Mr Melchert - a recently retired fertiliser plant manager - for his part said it was "the best thing I've ever done".
"The family needs the money," he said. "To me, yeah, that's a lot of money, but they need it way [more] than I do."
Police have also paid tribute to Ms Block - describing her as "amazing" and a "young lady with a lot of strength".
The three alleged kidnappers are under arrest and in custody, police say.