Harvey Weinstein 'sent email plea ahead of firing'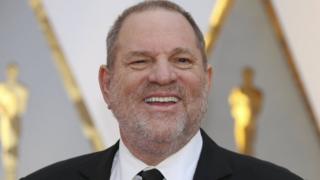 Film producer Harvey Weinstein emailed Hollywood associates asking for help to avoid being fired by his own company, US media report
Weinstein was sacked amid a slew of sexual harassment allegations dating back decades.
In the email, he said he was "desperate" for help and called for the film industry to support him, the New York Times reported.
Hollywood stars have spoken of their shock at the allegations.
'Heavy therapy'
Meryl Streep told the Huffington Post she was appalled by the "disgraceful" news and praised the women who reported the alleged abuse as "heroes".
Dame Judi Dench, who won an Oscar for her role in the Weinstein movie Shakespeare in Love, called the claims "horrifying".
The email was sent on Sunday to studio executives and agents, the New York Times reported, hours before Weinstein was fired by the board of his company.
According to those who said they had seen it, the email read: "My board is thinking of firing me. All I'm asking is let me take a leave of absence and get into heavy therapy and counselling.
"Whether it be in a facility or somewhere else, allow me to resurrect myself with a second chance. A lot of the allegations are false as you know but given therapy and counselling as other people have done, I think I'd be able to get there.
"I could really use your support or just your honesty if you can't support me."
The email adds: "We believe what the board is trying to do is not only wrong but might be illegal and would destroy the company. If you could write this letter backing me, getting me the help and time away I need, and also stating your opposition to the board firing me, it would help me a lot. I am desperate for your help. Just give me the time to have therapy. Do not let me be fired. If the industry supports me, that is all I need."
Weinstein is one of the most powerful men in Hollywood, having co-founded the Miramax and Weinstein Company production firms. His films include Shakespeare in Love, The King's Speech and Pulp Fiction.
When the claims were first reported in the New York Times last week, Weinstein issued a statement in which he apologised for causing "a lot of pain".
However he later disputed the article, with one of his legal team claiming the newspaper's report was "saturated with false and defamatory statements".
Weinstein's lawyer, Lisa Bloom, said in another statement that the allegations against him were "patently false".
Bloom later announced she had resigned as Weinstein's adviser.
The allegations against him, according to the New York Times report, emerged mainly from young women hoping to break into the film industry and included celebrities Ashley Judd and Rose McGowan.
Among the accusations levelled against the film producer are that he forced women to massage him and watch him naked. In return for sexual favours, he promised to help advance their careers, they said.