Canada drops asylum seekers hijab questionnaire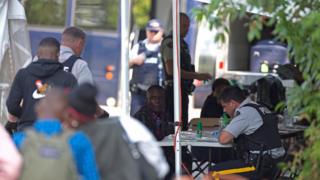 Canada has suspended the use of a questionnaire that appeared to single out Muslim asylum seekers crossing into the country.
The Mounties used the form to screen refugee claimants entering into Quebec from the US.
Public Safety Canada says the document was "inappropriate and inconsistent with government policy".
Over 13,000 asylum seekers have crossed illegally into Canada since January, mostly into Quebec.
Canadian immigration and refugee lawyer Clifford McCarten provided the BBC with a copy of the document.
Many of the questions are standard, including queries related country of origin, basic health questions, and whether the respondent has friends or family in the US or Canada.
But it also includes questions about the refugee claimant's opinion on the so-called Islamic State and the Taliban and how they feel about women who do not wear religious head-coverings like the hijab and niqab.
Other questions asked more generally about affiliations with extremist or political groups, whether the respondent practises a religion and how often, and the person's opinion on religious freedom and equality between men and women.
A spokesman for federal Public Safety Minister Ralph Goodale said they were "immediately concerned" after learning of the document and contacted the Royal Canadian Mounted Police (RCMP).
That version of the interview guide was only used in Quebec.
The RCMP did not immediately respond to requests for comment, but told the Toronto Star, which first reported on the guide, that it was designed to speed up processing at the border and to "provide consistency in the RCMP's preliminary risk assessments".
Responses were entered in the national police force's database.
When refugee claimants cross into Canada illegally they are apprehended, identified, searched and screened. If they are eligible to make an asylum claim, they are allowed entry and referred to immigration officials.
Canada saw an influx of refugee claimants crossing illegally into the country over the summer, up to 300 per day. The numbers have since tapered off.
Many that arrived in July and August were of Haitian origin but a number also came from African and Mideast nations.