Boy survives 100ft Niagara Falls tumble in photo op mishap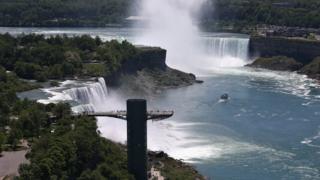 A 10-year-old boy is in hospital after falling about 30 metres (100ft) over the railing at Niagara Falls into a gorge below.
Police told the BBC the boy was sitting on the railing so his mother could take a picture on Sunday.
He apparently lost his balance and plummeted backwards, striking his head.
A helicopter took the boy, whose injuries were initially described as critical, to McMaster Children's Hospital in nearby Hamilton, Ontario.
Police said the boy was now in a stable condition and they were still investigating the incident.
The boy was visiting Niagara Falls on the Canadian side with his family when they stopped to take a picture at the Horseshoe Falls, the largest of three waterfalls that make up Niagara Falls.
About a dozen people have gone over the falls since 1901, usually intentionally, inside a barrel or some other kind of protective device.
In 2017, Kirk Jones died after going over the falls in an inflatable ball after surviving a similar stunt in 2003.
In 2011, a Japanese exchange student died when she slipped and fell into the falls after climbing a pillar to get a better view.