Florida governor defends emergency before far-right speech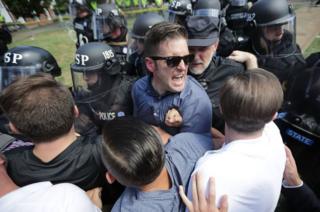 The governor of Florida has defended his decision to issue a state of emergency because a white nationalist is due to speak at a campus this week.
Rick Scott, a Republican, said he was not trying to violate the free speech rights of the speaker, Richard Spencer.
Mr Spencer, a figure in the racist "alt-right" movement, is scheduled to speak at the University of Florida's Gainesville campus on Thursday.
The governor's action activates the state's National Guard troops.
"I believe in the first amendment [free speech] rights that people have," Mr Scott told the Orlando Sentinel after a meeting at the state capital in Tallahassee on Tuesday.
"I do expect people to be safe. I don't condone any violence. I'm going to continue with law enforcement to make sure all Floridians are safe."
The order - which covers Alachua County, where the campus is situated - came after the local sheriff appealed to the state for security assistance, Mr Scott noted.
The university said it was not aware of any "specific heightened threat", but Mr Scott warned on Monday that a "threat of a potential emergency is imminent".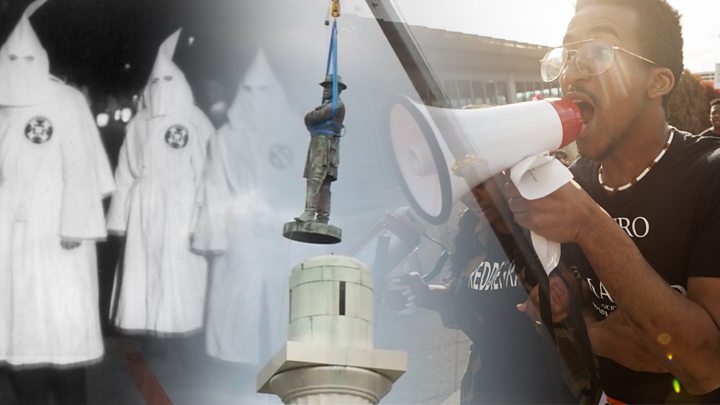 Mr Spencer told the Associated Press news agency on Monday that the emergency order was "flattering", but probably "overkill".
He argued that it was an attempt to suppress free speech.
The University of Florida at first tried to prevent Mr Spencer from speaking on campus after an "alt-right" rally near the University of Virginia in August led to violent clashes and one death.
At that event in Charlottesville, which Mr Spencer helped organise, a large group of far-right activists chanted "Jews will not replace us" and "blood and soil" (a Nazi slogan).
The University of Florida (UF) later reversed course, allowing Mr Spencer and his group - the National Policy Institute - to speak after hearing concerns about free speech.
In announcing the climbdown, university president W Kent Fuchs complained in a letter to students that "UF is required by law to allow Mr Spencer to speak his racist views on our campus".
He added that the university is "not allowed by law to bill him for the full costs of keeping our campus safe, which exceed more than a half million dollars".
It will instead charge him only of $10,564 (£8,000) to rent the facility and for security within the venue.
In an online Q&A of more than 30 questions, the university explained that due to a legal doctrine known as the "heckler's veto" they are unable to charge Mr Spencer's group for the enhanced security.