Philando Castile fund erases Minnesota school lunch debt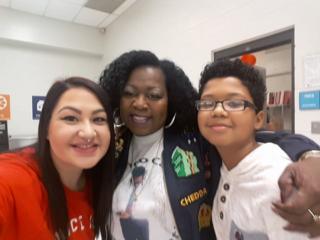 A fundraising campaign in memory of Philando Castile has raised enough cash to pay off the student lunch debt in St Paul, Minnesota, for a year.
Mr Castile, 32, worked as a nutrition services supervisor before he was shot dead by a police officer during a traffic stop in July 2016.
His death made headlines after his girlfriend - who was also in the car - broadcast the aftermath on Facebook.
The memorial fund has collected more than $75,000 (£57,000) since August.
Mr Castile, who was fatally shot by Jeronimo Yanez, worked at the JJ Hill Montessori school in St Paul.
Mr Yanez was later acquitted of manslaughter charges by a jury. The verdict caused widespread anger and prompted a number of protests across the city.
'$17,000 in one week'
Pamela Fergus, a 59-year-old community college professor who teaches psychology at Inver Hills Community College, created Philando Feeds the Children fund on 29 August.
She told the BBC the dashcam video of Mr C had left her in shock, and with the anniversary of his killing drawing near, she felt like she had to honour his memory.
Conducting her own research, she found out that JJ Hill Montessori was about $1,000 in debt every year due to the cost of school lunches.
"Last year, it was particularly bad, with the amount owed rising to $4,000 and nearly 900 kids in debt," she said.
Students at Prof Fergus's college class took on the project of paying off overdue lunch debt and after contacting Mr Castile's mother, Valerie, the fundraiser went up online.
Within a few days, the scale of enthusiasm took her by surprise.
"We had a $5,000 (£3,800) goal which I though was bold at the time. We raised about $17,000 (£12,900) in one week."
The campaign has now collected $75,892 (£57,000) from more than 2,000 donors.
Prof Fergus, who has been a college teacher for the last 15 years, told the BBC she has collected enough money to pay off debt owed by all students in elementary, middle and high schools across St Paul for one year.
Some of the donations, she said, came from parents whose children knew Mr Castile.
"A lot of people who donated said their sons or daughters knew and loved him," she said.
"Some said they used to go to the school where he worked and remembered how embarrassing it was not to have lunch money."
"The JJ Hill school is several thousand dollars short. Some kids get free lunch, but many kids come from families with incomes slightly above the cut off. They get behind in payments, and need our help," read a message on the campaign's page on a crowdfunding website.
"Philando was 'Mr Phil' to the students at JJ Hill. He supervised their food programme and interacted with the kids every day. He knew their names and their diets. He LOVED his job!"
To mark the campaign's recent success, Prof Fergus, her students and Mr Castile's mother and sister presented JJ Hill Montessori with a $10,000 (£7,600) cheque on Friday.
The cash would more than cover the overall debt owed by the school's students, she said.
"It was incredible. We all gathered in the school for a small ceremony. Valerie was so emotional. She hugged every kid in the school," she said of Mr Castile's mother.
'Special supervisor'
Mr Castile was also a familiar face at St Paul Public Schools, where he was one of the 60 nutrition supervisors.
"He was well known here. He was a very compassionate person with a quiet demeanour, always very polite. You could get the sense that he had a really big heart and looked out for students," Stacy Koppen, the director for nutrition services at St Paul Public Schools, told BBC News.
According to Ms Koppen, the annual school lunch cost $400 (£303) per student per head, with many parents struggling to meet the price.
Many parents don't qualify for the food programme, she said, sometimes falling short by as much as $10.
Mr Castile would sometimes pay for children's lunches out of his own pocket if they were short of cash.
"He was one of those special supervisors who would cover lunch for students if they had no money."
Prof Fergus said the campaign's success has motivated her to carry on.
"We are now filling up paperwork so we can become an official non-profit charity and work with local foundations so they can invest our money in schools," she said.
"I'd like to expand the project to the whole state and possibly to other countries. That would be wonderful."
By the UGC and Social News Team