Canada producer leaves TV amid flurry of sexual abuse allegations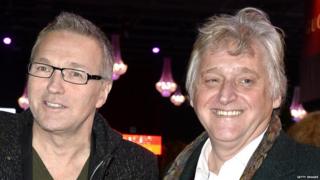 Canadian producer Gilbert Rozon has left several television productions amid accusations he sexually abused and harassed several women.
Montreal police are investigating an incident that took place in Paris in 1994, Radio Canada reported.
The 62-year-old resigned from his role as boss of the Just For Laughs comedy festival on Wednesday.
French channel M6 also suspended its broadcast of "France's Got Talent", which features Mr Rozon as a judge.
Mr Rozon issued a statement on Facebook shortly before a story by Montreal newspaper Le Devoir was published, detailing allegations of sexual abuse and sexual harassment from nine women spanning three decades.
"Shaken by the allegations against me, I want to dedicate all my time to review the matter," Rozon wrote on Facebook. "To all those who I may have offended in my life, I'm sincerely sorry."
In addition to leaving Just for Laughs, he also announced that he would be resigning from his role as commissioner of the Montreal 375th anniversary preparations.
Mr Rozon did not elaborate on the allegations, which range from sexual harassment to forced penetration, none of which have been proven in court.
Mr Rozon is famous in both his home country of Canada and abroad. He founded the Just for Laughs festival in 1983 and has expanded the brand to include television shows and specials. The brand is currently used in 150 countries, and is considered the largest comedy festival in the world.
He also had a prominent role as a judge, similar to talent show judge Simon Cowell, on the French television show France's Got Talent.
But allegations of sexual misconduct have swirled around him for at least a decade. He pleaded guilty to sexual assault of a 19-year-old woman in 1998, which resulted in an absolute discharge.