Texas city requires Israel pledge for hurricane relief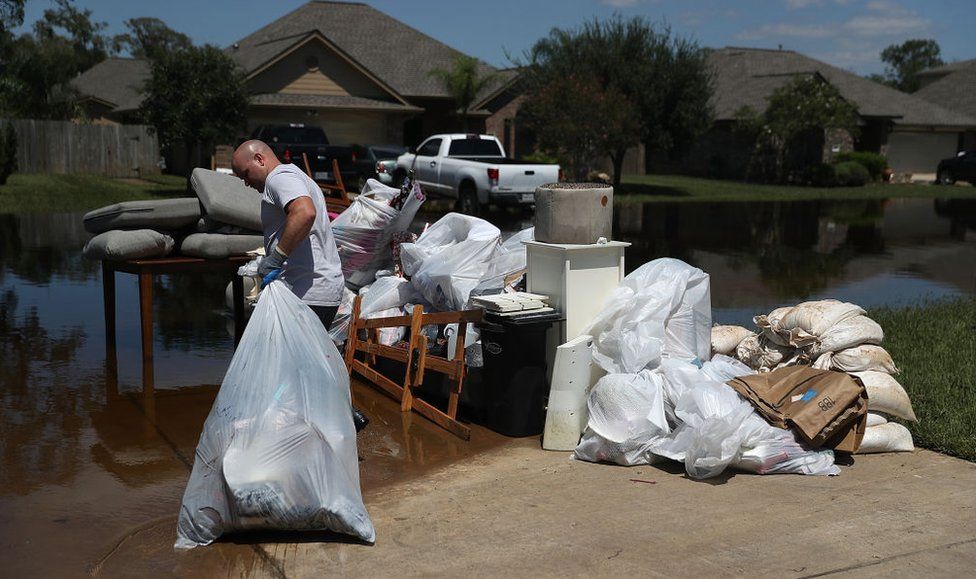 A Texas city has required residents who are seeking government disaster relief funds in the wake of Hurricane Harvey to pledge not to boycott Israel.
The city of Dickinson, about 30 miles (48km) south of Houston, posted grant applications for anyone seeking money for repairs after the category 4 storm.
Local officials say the pro-Israel clause is required under a Texas state law enacted earlier this year.
The application has drawn a strong rebuke from free-speech activists.
In the four-page, recovery aid application posted on the city's website, a section reads: "By executing this Agreement below, the Applicant verifies that the Applicant: (1) does not boycott Israel; and (2) will not boycott Israel during the term of this Agreement."
The provision stems from a law barring the state from entering a contract with any business unless it "does not boycott Israel".
Boycotting Israel includes any action intended to "to penalise, inflict economic harm on, or limit commercial relations specifically with Israel", according to the law.
The law, known as the Anti-BDS (Boycott, Divestments, and Sanctions) bill, was signed by Republican Governor Greg Abbott in May.
"Anti-Israel policies are anti-Texas policies, and we will not tolerate such actions against an important ally," the governor said in a statement earlier this year.
The American Civil Liberties Union (ACLU) criticised the city for the requirement, saying it was "an egregious violation" of free speech rights under the First Amendment.
"The First Amendment protects Americans' right to boycott, and the government cannot condition hurricane relief or any other public benefit on a commitment to refrain from protected political expression," said Andre Segura, the legal director of ACLU's Texas chapter.
Texas is not the only state to require this provision. The ACLU is suing on behalf of a public school teacher in Kansas over a similar anti-BDS law.
Hurricane Harvey made landfall on 25 August and was the first in a series of hurricanes to hit the Gulf of Mexico region.
The storm has been blamed for 47 deaths and Governor Abbott has warned that clean-up efforts could cost up to $180bn (£136bn).