Walnut particles in sandblaster linked to Canada man's death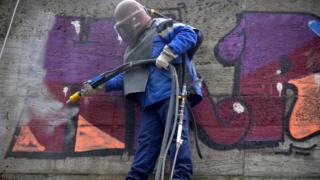 A Canadian man died from a possible fatal allergic reaction to walnut particles that were being used as an abrasive in sandblasting.
Justin Mathews fell ill this month while checking air quality at a fire station, where an industrial machine was removing lead paint from walls.
The 33-year-old went into anaphylactic shock after about 20 minutes on the work site in Edmonton, Alberta.
His family want better labelling of industrial products that contain nuts.
He was rushed to hospital on 2 October after having trouble breathing at the fire station. He was taken off the ventilator on 7 October.
Walnut shells and corn cob granules are increasingly being used as sandblasting abrasives because the previous main ingredient of silica sand was found to cause serious respiratory disease.
Mr Mathews was diagnosed with a nut allergy as a child.
His father, David Mathews, said his son had only been briefly hospitalised once in his life for his allergy.
He had managed to avoid any contact with nut products and so did not always carry an allergy pen, the father added.
He believes his son inhaled airborne walnut particles at the work site.
Mr Mathews Snr said there was no information on the sandblasting product packaging that warned of possible allergens.
"It could have been prevented, that is the sad thing," he told the BBC.
He said they want to be sure this does not happen to anyone else.
Alberta's Occupational Health and Safety Department is investigating the incident.
Food Allergy Canada includes sandblasting materials as one source of non-food tree nuts that people with those allergies should be aware of.