Sherin Mathews: Father of missing girl changes story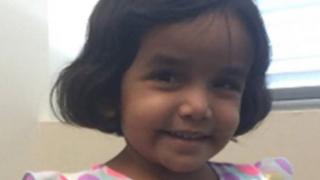 The US father of an adopted girl found dead after she was reported missing has changed his story to say he watched her die as she choked on milk.
Wesley Mathews previously claimed he left Sherin Mathews, three, outside the family home in north Texas after she refused to drink her milk on 7 October.
Sherin, who was adopted from India last year, was found dead on Sunday in a culvert half a mile from home.
Mr Mathews, 37, is being held for causing felony injury to a child.
The charge carries a maximum penalty of life in prison.
According to the police warrant, Mr Mathews and his lawyer visited Richardson Police Department voluntarily on Monday where he provided an "alternate statement of events" to officers.
He told detectives that on the night of Sherin's death, he had been trying to get her to drink her milk in the garage of the Dallas suburbs home.
"Eventually the 3 year old girl began to drink the milk," the police warrant says of the suspect's version of events.
"Wesley Mathews then physically assisted the 3 year old girl in drinking the milk.
"The 3 year old girl began to choke.
"She was coughing and her breathing slowed.
"Eventually Wesley Matthews no longer felt a pulse on the child and believes she had died."
Police say he has admitted to removing the girl's body from the home.
Officials have not yet released the girl's cause of death.
Mr Matthews at first claimed that he forced his daughter to stand outside at 03:00 local time, in an area that he knew to be frequented by coyotes, as punishment for not drinking her milk.
He was initially held for child abandonment and endangerment.
The couple have a four-year-old biological daughter, who has been placed in foster care.
Mr Mathews previously said Sherin had developmental disabilities and was malnourished when she was adopted.
He said he and his wife had put her on a special diet that included feeding her in the middle of the night to help her gain weight.