The Mulroneys, Meghan Markle and her life among Toronto 'royalty'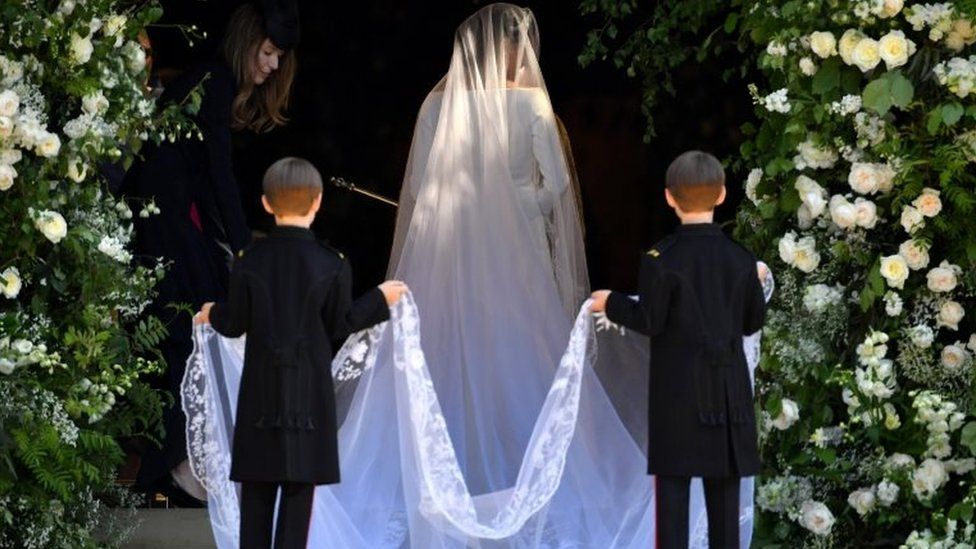 What does Meghan Markle's life in Toronto tell us about the new royal?
For years, she lived in the Canadian city relatively under the radar.
That was before she became publicly linked to Prince Harry - arguably the world's most eligible bachelor - and subsequently the most googled actress of 2016.
The Los Angeles native had settled into her adopted city of Toronto where Suits, the cable legal drama in which she co-stars, is filmed.
The American actress would spend time at Trinity Bellwoods Park in the trendy West Queen West neighbourhood, dine at restaurants near her home in the Annex, grab groceries at specialty shops in Kensington Market, and have drinks at the private Soho House club downtown.
Here are five things about the actress's Toronto life that offer a hint into what she might be like as a royal.
She's friends with Canada's top socialites
Vancouver's Amanda Dishaw, who runs the blog Meghan's Mirror along with US-based colleague Christine O'Brien, says Ms Markle is "very loyal to a very small group of friends".
Even before meeting Prince Harry, Ms Markle was embraced by a duo that Toronto Life magazine called the city's "most polished power couple" - Jessica and Ben Mulroney.
Ben Mulroney is the son of former Canadian Prime Minister Brian Mulroney and is a prominent TV host and entertainment reporter - Canada's answer to Ryan Seacrest.
Jessica Mulroney, with a career in fashion and marketing, is from one of Montreal's most prominent clans, a descendant of the founder of a national shoe retail empire.
She is also fashion adviser to Sophie Gregoire-Trudeau, the wife of current Canadian PM Justin Trudeau.
Until Ms Markle dialled down her once robust social media presence - her last Instagram post was in April, the same month she shuttered her lifestyle blog The Tig - the two regularly appeared in cameos on each other's feeds.
They've posted pictures of themselves at a Toronto Blue Jays baseball game, holidaying on the Italian island of Capri and spending a weekend evening drinking wine on the sofa.
The Mulroneys and Trudeaus - Canada's pre-eminent political families - are close, and Ms Markle knows the Trudeaus through her humanitarian work.
Mulroney's children- Ivy, four, and seven-year-old twins Brian and John - are among the bridesmaids and pageboys at the wedding. It is also rumoured that the Canadian stylist was involved in helping to plan the event.
The BBC is not responsible for the content of external sites.
She was photographed arriving at Heathrow Airport with her family on Tuesday night.
Former society columnist Rosemary Sexton says the two families are "Canadian royalty".
"It seems only fitting that she hangs around with [them]."
Mr Trudeau, like other political leaders, was not invited to the wedding.
The actress is also good friends with Markus Anderson, the Toronto-based global membership director of Soho House, who is rumoured to have introduced the couple and was another regular on Ms Markle's Instagram.
She can keep a low profile
Dishaw says she's been surprised at how few paparazzi photographs have been taken of the actress in recent months.
The photos that have emerged often show Ms Markle on the way to the gym, shopping with Mulroney, or walking her dogs.
Despite her high-profile friendships, she seems to prefer more private spots over the fashionable ones. She's often spotted heading to hot yoga at one of the more reasonably priced studios in the city.
Dishaw says Ms Markle goes to places more focused on "the overall sense of wellness rather than the trendiest kind of yoga classes".
"In London she won't be going to the really trendy popular places in Belgravia. She'll probably try to find a place a little bit quieter," she says.
The 'Meghan effect': Her style is winning her fans
The actress' style is a casual and minimalist California-girl-meets-downtown-Toronto style that Ms Markle has dubbed "Aspirational Girl Next Door".
It's a uniform - jeans, simple shirts, flats, a nice coat - and Dishaw says "she's gotten it down to an art".
Ms Markle didn't veer from the look during her first public appearance at the Invictus Games with Prince Harry, even wearing a favourite pair of distressed jeans Dishaw says are still "hotly, hotly debated" on the blog.
Her style, which includes accessible pieces from chain stores, is easy to imitate.
Ms Markle already had a reputation as a fashion maven from her now defunct lifestyle site, The Tig.
She also helped design two quickly sold-out capsule collections for Canadian retailer Reitmans. The collections were made up of affordable pieces based on her personal style and that of her Suits character, Rachel Zane.
Dishaw and her colleague also run a site dedicated to Ms Markle's future sister-in-law, the Duchess of Cambridge. Dishaw says she's seen interest move from what the duchess wears to "really getting on board with the Meghan style".
"It's really interesting for us to see this shift in royal fandom - this big shift towards Meghan and distancing themselves from Kate," she says.
Last December, staff at Canadian fashion house Mackage came into work to find a single item - a double breasted coat Ms Markle wore during her first public appearance after the engagement announcement - had sold out overnight.
A white coat she wore by another Canadian brand, Line the Label, also flew off shelves. The coat has since been christened "The Meghan".
She's used to the spotlight
Ms Markle has become increasingly used to fame during her acting career.
She said she spent her first two years going to yoga studio "Moksha downtown and trolling for girlfriends".
As Suits got broader exposure, including a Netflix deal, she described "getting used to being famous so far from my support and comfort systems" as an odd experience that brought the cast closer together.
Over time, she has proven adept at crafting a polished social media image, garnering 1.9 million Instagram followers.
Ms Markle also appears comfortable in the public eye, sharing her passion for philanthropy and interest in social activism.
She is a global ambassador for World Vision Canada and involved with the One Young World summits and the UN's gender equality campaign.
She has written openly about her struggle in Hollywood as a biracial actress.
"I've never wanted to be a lady who lunches - I've always wanted to be a woman who works," she has said on The Tig.
"And this type of work is what feeds my soul, and fuels my purpose."
Still, the actress told Vanity Fair earlier this year the media storm that comes with dating Prince Harry "has its challenges".
"There's always been some titillation for society watchers to see members of very different social classes fall in love - it's a Cinderella fairy tale coming true," says Sexton.
But the former columnist says Ms Markle seems to have "a poise and a sweetness and a calm demeanour that should stand her in good stead to go into the Royal Family".
Unlike Prince Harry, the actress wasn't raised with media scrutiny.
She grew up in a middle-class family in LA - her father was a lighting director, her mother is a social worker and yoga instructor - and has spoken about struggling to make ends meet in her early acting days.
Ms Markle graduated from Northwestern Universitywith a double major in theatre and international studies.
"There's a stability to a normal middle-class person that perhaps the skittish temperamental blueblood might not possess," Sexton says.
She's adopted Canada - and Canadians have adopted her
Ms Markle has spoken about how she has embraced Canada as a second home, a place she has lived in for nine months of the year for seven years, even getting used to Canadian winters.
Dishaw says that her blog's American readers like to think of Ms Markle as the next Grace Kelly - an American princess - but that Canadian visitors like to argue she came into her own while living in Toronto.
That connection to Canada is something Dishaw believes "plays in her favour with the Royal family", given the country's status as a Commonwealth nation.
Sexton says "it wouldn't matter a hoot who Prince Harry had on his arm as far as Canadian society goes, because he or she would be welcomed with open arms".
But she says that having a Canadian - even an adopted one - marrying royalty is "a real feather in our cap".