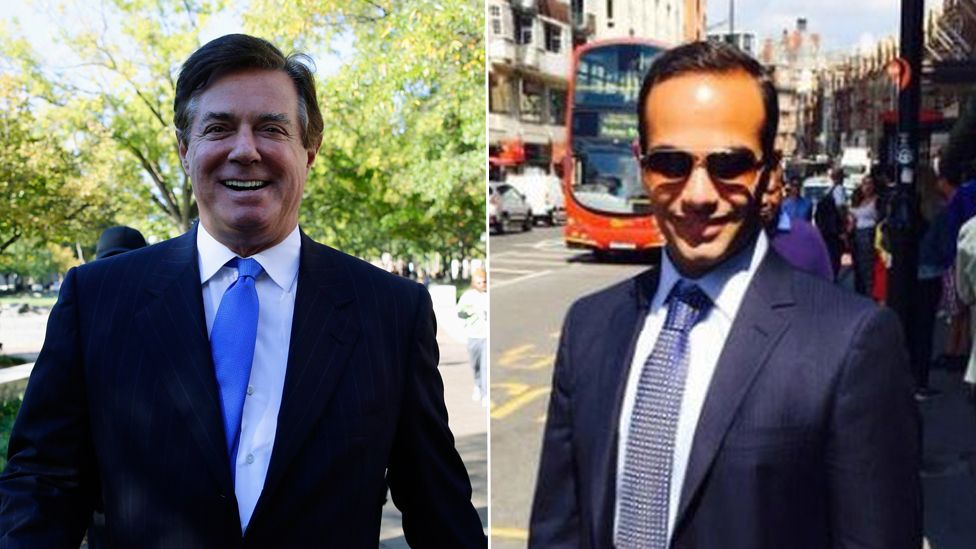 On Monday morning Paul Manafort and business associate Rick Gates were charged with 12 counts of money laundering, undisclosed foreign lobbying, lying to government investigators, and various and sundry other serious-sounding offences.
It turned out that wasn't the biggest news of the day.
Indictments had been telegraphed since news reports on Friday evening mentioned they were signed, sealed and soon-to-be-delivered. Manafort's name was at the top of most lists of possible targets. It was the follow-up revelation from Robert Mueller's independent counsel team, however, that caught most of Washington by surprise.
George Papadopoulos - hardly a household name - had pleaded guilty to lying to FBI investigators about his contacts with Russian nationals and connected individuals while he was serving as a foreign policy with the Trump campaign.
Where the Manafort indictment was somewhat expected and covered business dealings prior to his time as head of the Trump campaign, the Papadopoulos news sits at the heart of Mr Mueller's investigation into possible Trump team collusion with Russia.
Here are three reasons why Papadopoulos is a key piece of the puzzle. And lest we give the Manafort case short shrift, here are three more reasons why it could end up being even more explosive.
Papadopoulos was an intermediary
Per details of the indictment and plea agreement, Papadopoulos has revealed that he was in contact with individuals - a London professor, a female Russian national, a Russian foreign affairs ministry official - either directly or tangentially connected to the Russian government.
He was passing along details of conversations he had to senior members of the Trump presidential campaign team including, reportedly, Manafort. At one point, a "campaign supervisor", responding to one of Papadopoulos's emails, replied "good work".
While not evidence of collusion, this is clear indication that the Russian government was seeking back channels to the Trump campaign - and were finding at least some success.
The White House has diminished Papadopoulos's role within the campaign, noting he was an unpaid adviser and that his efforts to set up a senior-level meeting between the Trump team and Russian officials were rebuffed.
Papadopoulos did have a sit-down conference on 31 March 2016, with Mr Trump and the rest of the foreign policy team. Candidate Trump also mentioned Papadopoulos, whom he called an "excellent guy", as an adviser in a 21 March interview with the Washington Post.
Papadopoulos may have been on the campaign periphery, but he was far from a total unknown.
Papadopoulos heard about Clinton "dirt"
On April 26, 2016, Papadopoulos's professor contact told him he had just returned from Moscow and learned from "high-level Russian government officials" that they possessed "dirt" on Democratic presidential candidate Hillary Clinton in the form of "thousands of emails".
It's unclear from the indictment whether Papadopoulos passed this bit of information on to his campaign contacts, although it notes he "continued to correspond" with them.
What is clear, however, is that there is now evidence that individuals with Russian government connections on two separate occasions tried to let the Trump campaign know that they had information they thought was damaging to the Democratic candidate.
Papadopoulos was the first. The second was when the president's eldest son, Donald Trump Jr, heard a similar line from his publicist-friend Rob Goldstone in June 2016.
Trump Jr responded by writing "if it's what you say I love it especially later in the summer". Later that month, Trump Jr, Manafort and Donald Trump's son-in-law, Jared Kushner, met a group of Russian nationals.
In July, embarrassing emails that were hacked from the Democratic National Committee were published by Wikileaks. In October, the contents of Clinton campaign chair John Podesta's personal email inbox were released.
It makes for an interesting timeline.
Papadopoulos is co-operating
If there's anyone in Trump's campaign circle with something to hide, they should be concerned that Papadopoulos was arrested back on 27 July. He struck a plea agreement with the Mueller team on 5 October.
That was nearly four weeks ago and, according to the court documents, Papadopoulos has been co-operating with government investigators ever since. In fact, Mr Mueller told the relevant court he did not want the arrest made public because it would "significantly undermine his ability to serve as a proactive co-operator".
So who has Papadopoulos spoken to since his arrest? And what sorts of topics could he have discussed?
HotAir Blog goes through an extended what-if scenario that envisions how Papadopoulos could go about surreptitiously gathering incriminating details from members of Trump's campaign inner circle. He could ask for their "advice" on how to disrupt Mr Mueller's investigation after disclosing that he had been arrested.
"Suddenly those people woke up this morning and realised they'd had conversations with Papadopoulos recently about how to throw Mueller off the trail and only now do they realise he's been in cahoots with Mueller for three months," the theory goes. "Hoo boy."
Manafort hire shows bad judgement
Even if, as Mr Trump writes in a tweet, Manafort's alleged illegal activities occurred "years ago", before he took a senior position in the Trump campaign, it still reflects poorly on the then-candidate's personnel choices.
It was clear at the time Manafort came on board with Mr Trump that he had some questionable dealings in his past - including work for pro-Russian Ukrainian politicians, Philippine ex-leader Ferdinand Marcos and a group with ties to Pakistani intelligence.
Like many politicos in Mr Trump's orbit, Manafort was thrust into the campaign spotlight with little background vetting because more established hands wanted nothing to do with the upstart candidate's presidential efforts.
The decision to run with Manafort, who was backed by Trump confidante Roger Stone, has come back to haunt his presidency.
Manafort move could set stage for more indictments
Part of the case against Manafort - that he was operating as an undisclosed agent for a foreign government - echoes similar allegations made against another Trump associate, former National Security Advisor Michael Flynn.
Flynn resigned his White House post after revelations that he had lied about discussing US sanctions with Russian ambassador Sergey Kislyak in December 2016. It was later disclosed that Flynn was also working for the Turkish government - something he didn't disclose on his relevant government forms.
If Manafort can face charges for his Ukrainian involvement, Flynn may be in jeopardy as well.
Slate's Dahlia Lithwick and Mark Joseph Stern also theorise that Mr Mueller's case against Manafort for financial misdeeds relating to foreign income could serve as a blueprint for a future case against Mr Trump's own business organisation, which also brings in a fair amount of revenue from foreign sources.
"This is an indictment that should terrify Trump in that it shadows and hints at his own unlawful conduct," they write.
Mr Trump wasn't named in the Manafort indictment, but the message may have been sent nevertheless.
Will Manafort co-operate?
Then there's the million-dollar question. If Manafort and Gates are each staring at double-digit prison terms if convicted, might they follow Papadopoulos's lead and seek to strike a deal with Mr Mueller in exchange for leniency?
Papadopoulos, of course, is a figure from the edges of the Trump campaign. Manafort, for months, was at the heart of it.
Mr Mueller and his veteran team of prosecutors know how to build a case against a large enterprise. Start with the easy targets, then offer a deal. Work your way up from the bottom. Reward those who co-operate early, and throw the book at the hold-outs. Turn the screws, and have your targets constantly looking over their shoulders.
Manafort and Gates may have nothing to bargain with - the White House insists that there is nothing there. If they do, however, this rollercoaster ride is only just beginning.