'He was revving - I saw him hit people'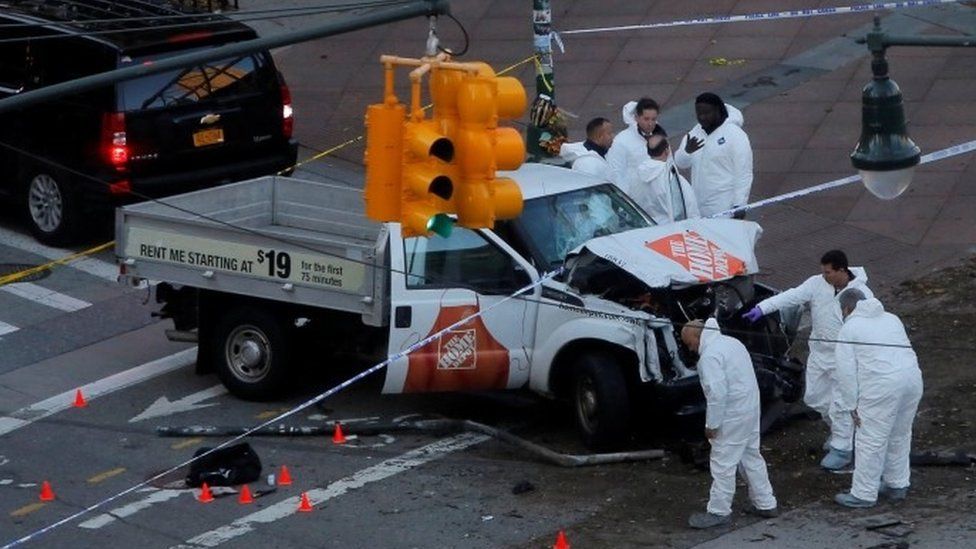 Babatunde Ogunniyi watched in disbelief as a truck revved and sped past him down a cycle path, hitting two people and crashing into a school bus.
A 29-year-old man was shot by a police officer and arrested. Officials later said it was a terror attack.
Mr Ogunniyi, who is 23 and a computer science student in the area, told the BBC what he saw.
"We were sitting outside of college, and I saw this truck coming, revving and swerving - he was going maybe 60 or 70 mph, in an area where the speed limit is 40 - it's a very congested area with lots of people.
"It hit the two people, I saw it hit them. Then he continued to drive down the walkway and bike lane. It hit a school bus and veered left.
"People started running towards the truck to see what was happening, and then the gun shots went off and everyone ran in the opposite direction.
"It was surreal, I was astonished - no-one really knew what it was, it looked at first like it could been an accident," he explained.
People around him were confused and didn't know what they should do, he says.
"We didn't yet know that the people we saw hit were dead - we didn't know whether to call the authorities or emergency services, or whether we should be trying to seek shelter," he continued.
He walked towards the partially-mangled school bus, which video taken by eyewitnesses appears to show came to a standstill nearby.
"We saw the fire department getting children off the bus, we saw them trying to take the bus apart to get inside - it was so bad.
"I'm not sure if the children were injured - maybe someone had got stuck. I'm not sure whether everyone was OK.
"Later we found out that more people had died than the two we saw in the street," he continued.
He says the atmosphere in the area went from confusion and disbelief to shock that they witnessed the attack.
"It's just one of those things, you never expect it to happen. You see on the TV and news, you never think it could happen right in front of you, that it could be so close to you.
"We are just trying to work out why a person would want to mow down some people, to drive into a school bus.
"It doesn't really make sense, it's crazy.
"More so than anything, I remember seeing him driving, so recklessly, and revving the engine."
By Georgina Rannard, UGC & Social news