Russian and Venezuelan officials hit by Canada sanctions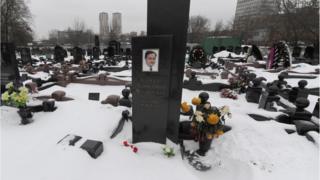 Canada has imposed new sanctions against officials from Russia, Venezuela and South Sudan.
The country says 52 individuals are being targeted for human rights violations or "significant corruption".
Among those sanctioned are 30 Russian officials who Canada says were linked to the prison death of Russian whistleblower Sergei Magnitsky in 2009.
They are the first sanctions imposed under Canada's so-called Magnitsky Act, named for the Russian lawyer.
Magnitsky was a lawyer who alleged massive tax fraud by Russian tax officials and police officers before his imprisonment and death in a Russian detention centre in November 2009.
His death had wide public resonance in Russia and the West, and became a symbol of the fight against corruption in Russia.
The move freezes any Canadian assets owned by the named individuals and restricts Canadians from financial involvement with the sanctioned individuals.
The officials will also be barred from entering the country.
Canada's new law is modelled on an act adopted by the US Congress in December 2012. That act enables the US to withhold visas and freeze financial assets of officials alleged to have been involved with human rights violations.
Members of the Magnitsky family were in Ottawa on Wednesday to thank Canadian legislators for passing the bill.
Russian Ministry of Foreign Affairs spokeswoman Maria Zakharova said on Friday that the Kremlin would retaliate by banning entry to Russia for "dozens" of Canadian officials they deem "Russophobic-minded citizens".
"If our Canadian partners like to play the sanctions game, we'll be ready to respond," said the statement posted on the Russian Ministry of Foreign Affairs website.
Along with the 30 Russian officials, 19 Venezuelans, including President Nicolás Maduro, were hit with new sanctions by Canada under the Magnitsky Act.
Three senior officials from South Sudan, including the country's former army chief Paul Malong, were also targeted.
These are in addition to sanctions imposed by Canada in September on 40 senior members of the Venezuelan government over their "anti-democratic behaviour".