Houston Astros' World Series win after Hurricane Harvey: Online reaction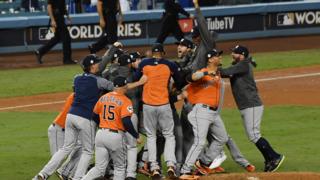 The Houston Astros baseball team made history on Wednesday night with their first ever World Series title, beating the Los Angeles Dodgers 5-1. For the city of Houston, still recovering from Hurricane Harvey, sporting success offered a welcome respite for many fans.
Houston was flooded and many people lost everything in the record-breaking hurricane that made landfall just nine weeks ago. But Harvey's aftermath has helped to strengthen the bonds between the team and the local community.
Although the team was forced to play some home games away from Houston, players helped with relief efforts and earlier this season, players wore jerseys emblazoned with the logo "H Strong" in a tribute to the city.
The hashtag #HoustonStrong was trending on Twitter on Wednesday night, with people using the hashtag more than 78,000 times.
The exciting World Series also offered some respite for Puerto Ricans in the wake of Hurricane Maria. The Astros fielded three players from Puerto Rico and shortstop Carlos Correa dedicated the win to those affected by Hurricane Maria in his native Puerto Rico, while outfielder Carlos Beltran has raised more than $1m for Puerto Rico disaster relief.
The team's first tweet after winning the Word Series was retweeted more than 50,000 times.
The hashtag #EarnedHistory was popular on Twitter, reflecting the team's own motto for the 2017 season - "Earn It".
Off the internet, the Astros' success sparked off wild celebrations in Houston city centre on Wednesday night. Thousands of fans converged to rejoice.
However, the series was marred by the Houston Astros first baseman Yuli Gurriel after he made a racist gesture towards Dodgers pitcher Yu Darvish in a game.
In the final match of the series, he tipped his helmet to Darvish in their first encounter since the incident as an apology for his behaviour. He has been banned for five games next season.
The Astros' celebrations was a raucous affair but for Steve Sparks, a former Astros player and club radio commentator, it was a night to remember.
He was doing live radio during the post-match celebrations in the dressing room - leading many to speculate that his interviewing style might have been influenced by post-match drinks.
Los Angeles Dodgers' celebrity fans including The West Wing star Rob Lowe and US TV host Ellen DeGeneres were gracious in defeat, tweeting their congratulations to the Astros.