Elizabeth Warren agrees Democratic race 'rigged' for Clinton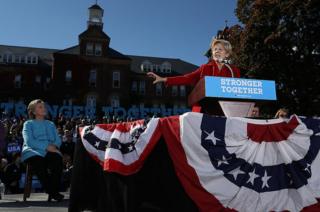 US President Donald Trump has called for an investigation after a Hillary Clinton supporter said the Democratic party "rigged" its primary for her.
CNN asked Senator Elizabeth Warren if Mrs Clinton's contest against Democratic rival Bernie Sanders was rigged, and she said: "Yes."
Another Democratic official writes in a new book about the party's "unethical" agreement with the Clinton campaign.
President Trump said the American public "deserves" an inquiry.
Ms Warren, a progressive senator from Massachusetts who campaigned for Mrs Clinton, was reacting to allegations by former Democratic National Committee (DNC) chairwoman Donna Brazile.
Ms Brazile writes in a new book that the cash-starved DNC signed a joint fundraising agreement with the Clinton campaign in August 2015, four months after the former secretary of state launched her candidacy.
Ms Brazile writes that Mrs Clinton's "campaign had the DNC on life support, giving it money every month to meet its basic expenses".
Excerpts from her book - Hacks: The Inside Story of the Break-ins and Breakdowns that Put Donald Trump in the White House - were released by Politico magazine.
The DNC was meant to be neutral in the contest between Mrs Clinton and her Democratic challenger Bernie Sanders, a Vermont senator.
But supporters of Mr Sanders have long claimed the party showed preference to Mrs Clinton.
Ms Brazile says the deal was "not a criminal act", but "compromised the party's integrity".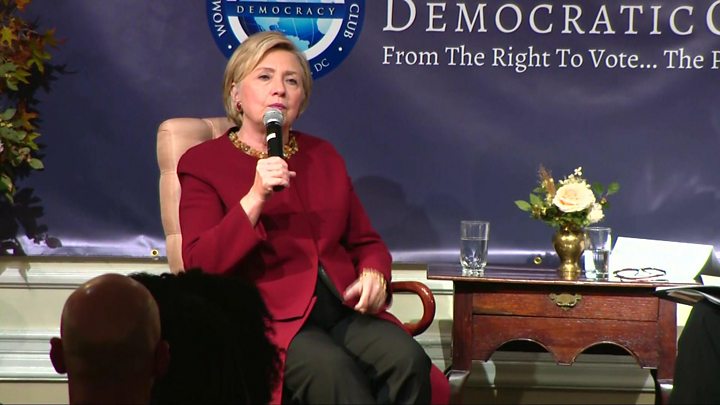 However, Mrs Clinton's defenders have pointed out the Sanders campaign signed its own joint fundraising agreement with the DNC.
Ms Warren, who has been touted as a possible 2020 presidential contender, nevertheless called the Clinton revelations "a real problem" for the party.
"But what we've got to do as Democrats now, is we've got to hold this party accountable," she said.
Congressman Keith Ellison - who backed Mr Sanders and is now the deputy chairman of the DNC - said in a statement "it is our responsibility to acknowledge that millions of Americans still feel hurt and betrayed by the events of the 2016 presidential primary".
"We can't allow this idea to persist that any candidate has an inside track."
President Trump seized on the controversy late on Thursday, and again on Friday morning, after his Twitter account was briefly taken offline.
"She basically bought the DNC and stole the election from Bernie," Mr Trump told reporters before departing on a trip to several Asian countries.
He tweeted: "Pocahontas just stated that the Democrats, lead [sic] by the legendary Crooked Hillary Clinton, rigged the Primaries! Lets go FBI & Justice Dept."
Mr Trump calls Ms Warren "Pocahontas" because political rivals accused her in 2012 of claiming Native American ancestry to gain an unfair advantage when applying for jobs at Harvard Law School, without proof of such lineage.
Mr Sanders fired back at Mr Trump on Twitter on Friday, saying: "We won't be distracted from your efforts to give billionaires tax cuts, take health care from millions and deny climate change.
"Do your job," he added.
Ms Brazile herself came under fire last year after the anti-secrecy website Wikileaks released hacked DNC emails that revealed she had notified the Clinton campaign in advance of a question the candidate would be asked by CNN.
Her predecessor at the DNC, Debbie Wasserman Schultz, resigned during the election after her leaked emails appeared to show a co-ordinated effort to aid Mrs Clinton's campaign.
Mr Trump is himself under scrutiny in a Justice Department investigation into whether his campaign aides colluded with Russians in an effort to sway last year's election.