Explosive Martin Luther King document amid JFK files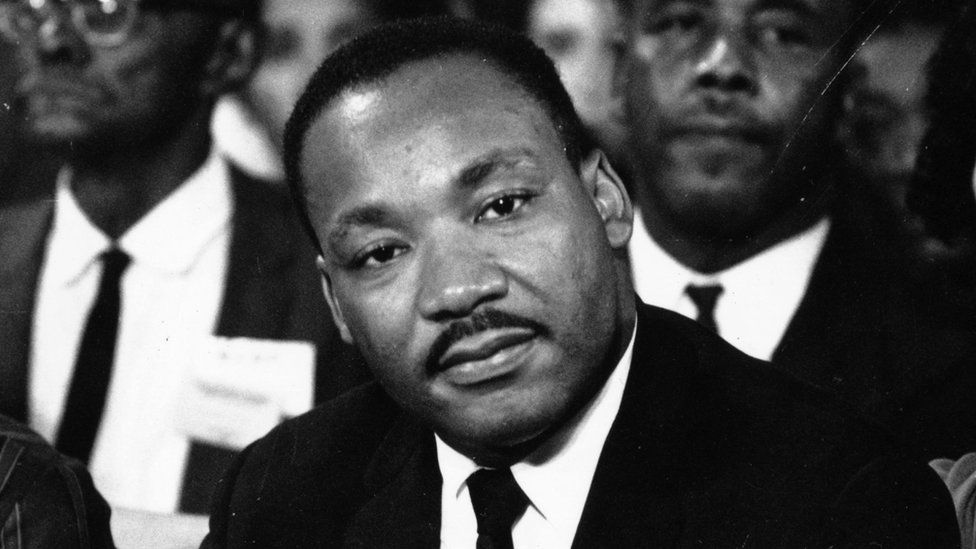 A secret FBI dossier on civil rights leader Martin Luther King alleges that he had a string of affairs and other "sexual aberrations", as well as links to the Communist Party.
It is dated just three weeks before Dr King's assassination in April 1968.
The file was released in a tranche of documents relating to the assassination of John F Kennedy released on Friday.
Mr Kennedy is not referenced in the file and it is not clear why it was kept secret for almost 50 years.
There is no evidence that any of the claims in the report were verified.
Its cover shows it was assessed in 1994 by an FBI task force on the JFK assassination, which concluded none of the document should be released.
Many of the allegations contained in the paper appear to be reports of private conversations between others, or hearsay reported third-hand.
One allegation, that King had a mistress in California with whom he fathered a child, was attributed to "a very responsible Los Angeles individual in a position to know".
Among its other accusations are that:
Dr King was surrounded by advisers with strong links to the Communist Party USA
His statements were always subject to approval by the alleged communist sympathisers
He was a secret supporter of communism, "a whole-hearted Marxist"
His organisation, the Southern Christian Leadership Conference, set up a "tax dodge" to raise funds for its activities
Dr King took part in "drunken sex orgies" and coerced young women to participate
He had love affairs with at least four women, including folk singer Joan Baez
The list of alleged indiscretions would likely have been deeply problematic for the civil rights leader if it had been made public in 1968.
The paper paints Dr King in an extremely negative light, despite his receipt of the Nobel Peace Prize and his contribution to passing the Civil Rights Act four years previously.
It is not entirely clear why the dossier was commissioned. But several pages of the 20-page document are concerned with Mr King's upcoming "Washington Spring project" which was scheduled for the coming months.
It warned that despite Dr King's history of calling for peaceful protest, "the combined forces of the communist influence and the black nationalists advocating violence give the 'Washington Spring Project' a potential for an extremely explosive situation."
Dr King was killed before the planned march.
A 'slow thinker' with 'abnormal' sexual preferences
Despite Dr King's historical reputation as a skilled speaker, the FBI file claimed that other advisers approved everything Mr King said.
"King is such a slow thinker he is usually not prepared to make statements without help from someone," it reads.
Linking Dr King to communism, it claimed:
"King is a whole-hearted Marxist who has studied it (Marxism), believes in it and agrees with it, but because of his being a minister of religion, does no dare to espouse it publicly."
And in another part says: "During the early 1960s, the CPUSA [the communist party] was striving to obtain a Negro-labor coalition to achieve its goals in this country… Martin Luther King, Jr, and his organisation were made to order to achieve these objectives."
The most salacious claims about Dr King's sex life are contained in a dense collection of rumours in the final two pages.
At a February 1968 workshop to train ministers in urban leadership, it is alleged: "One Negro minister in attendance later expressed his disgust with the behind-the scene drinking, fornication, and homosexuality that went on at the conference."
"Several Negro and white prostitute[s] were brought in from the Miami area. An all-night sex orgy was held with these prostitutes and some of the delegates."
The document alleged that Dr King also engaged in a "two-day drunken sex orgy" in Washington in January 1964.
"When one of the females shied away from engaging in an unnatural act, King and other of the males present discussed how she was to be taught and initiated in this respect," it added.
"It is a fact that King not only regularly indulges in adulterous acts but enjoys the abnormal by engaging in group sexual orgies."