Police buy food for woman stealing to feed her family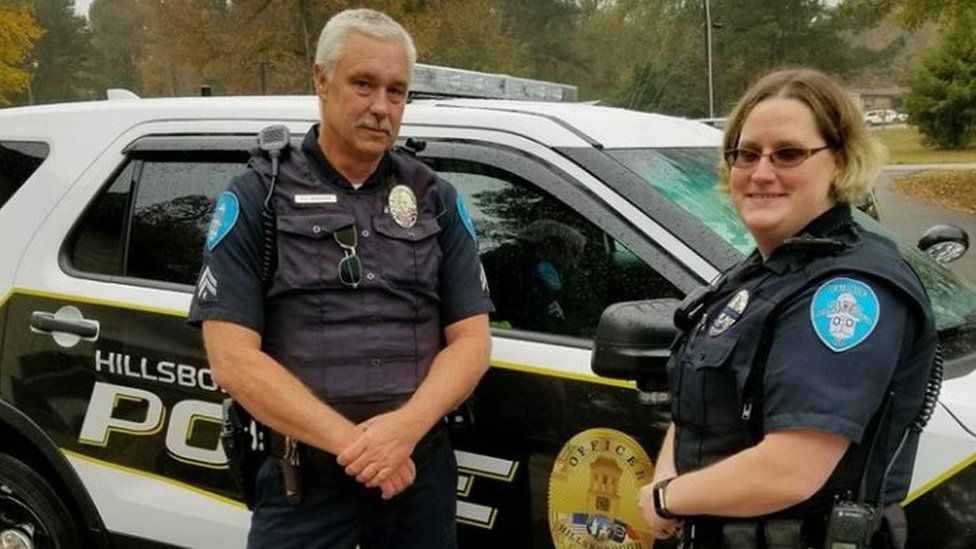 When police officers in North Carolina responded to a report of theft at a local supermarket, they found a mother struggling to afford to feed her family.
The woman suspected of stealing from the Food Lion supermarket in Hillsborough, North Carolina had been without food for three days.
In a post on Facebook, the Hillsborough Police Department stated Senior Corporal Keith Bradshaw and Officer First Class Candace Spragins "located the offender at her residence, where she gave back the $36 (£29) worth of food that she stole for her and her child.
"This was not a crime out of greed but one seen as necessary by a mother trying to feed a child."
Speaking to the BBC, Lieutenant Andy Simmonds, who posted the officer's story to Facebook, said, "Corporal Bradshaw looked inside the fridge and saw that it was bare."
Reading from the police report of the incident, Lt Simmonds continued: "The woman and her family had gone without food for three days."
The officers decided to take action to alleviate the woman's circumstances.
Lt Simmonds explained: "While the suspect was in front of the magistrate, the officers went to the grocery store and spent $140 (£107) of their own money on food for her family. Then they drove her home with the groceries."
Lt Simmonds told the BBC: "I decided to post this story to Facebook because good deeds need to be seen."
The post has gained 2,000 reactions, with the majority of comments praising the officers for their "kindness" and "compassion".
"As police officers we come into contact with people when they are vulnerable," said Lieutenant Simmonds. "We often buy people meals or gas. This is what policing is about in 2017. It has to be about partnership."
The Hillsborough Police Department confirmed the woman was charged with theft, and she is currently awaiting a court date.
By George Pierpoint, UGC and Social News