Skateboarder wins hearts with apology note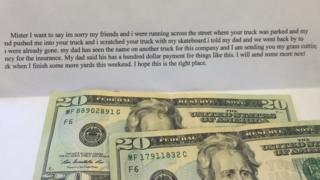 A construction boss in Illinois is trying to track down a skateboarder who anonymously left their "grass-cutting money" after accidentally damaging a truck.
John Zelnio, 57, from Moline, was opening the post on Tuesday when he found an envelope containing $40 (£30) and a note.
"I am sending you my grass cutting money for the insurance," read the note, apparently written by a young person who believed they had caused expensive damage to the truck.
"I will send more next week when I finish some more yards this weekend."
Mr Zelnio said he could not actually find any damage but that the letter had "touched my heart".
"I set out to look at my truck to see what the damage was, I walked around it a few times and couldn't see any," he said.
"I was touched by the young person's story, so I tried to figure out who it was so we could get the money back to them."
What did the letter say?
"Mister I want to say I'm sorry my friends and I were running across the street where your truck was parked and my friend pushed me into your truck and I scratched your truck with my skateboard.
"I told my dad and we went back [but you] were already gone. My dad has seen the name on another truck for this company and I am sending you my grass cutting money for the insurance.
"My dad said his had a hundred dollar payment for things like this. I will send some more next week when I finish some more yards."
'Good-hearted story'
Mr Zelnio said friends and family were pitching in to help the search by sharing the story on social media.
"I don't know if it's a young man or a young lady," he said.
"They said as soon as they mowed some more grass they'd bring the rest.
"It's such a good-hearted story in the mix of all the negative stories that are unfortunately happening at the moment.
"It's great to know there's some great hearts out there doing the right thing."
Asked what he would say to the young person if they came forward, Mr Zelnio said he would tell them: "I'm very proud of you, I'm proud of your parents for raising such a good kid, and you should keep up the good work," he said.
"And here's your money back."
By Tom Gerken, UGC and Social News team