Romance novel model pleads guilty to bank robbery spree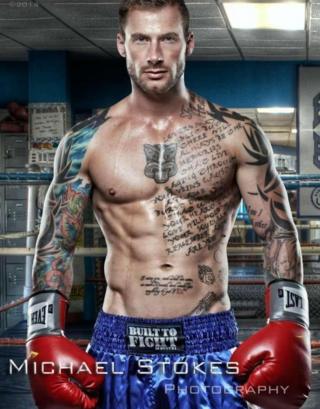 A former romance novel cover model, nicknamed "the Beefcake bandit", has pleaded guilty to robbing a bank and petrol station in Connecticut.
David Byers, 35, of San Diego, led police on a two-week manhunt, and managed to avoid capture several times.
Investigators, who called the model a "one man crime spree", say he also committed robberies in New York.
The model, who appeared the cover of four romance novels, concealed his face with a bandanna during his crimes.
Los Angeles-based photographer Michael Stokes, who worked with Byers, said he was best known for his "edgy, hard, bad-boy" look.
Byers was arrested by Swat officers in California in April after committing the robberies on the opposite side of the country in Greenwich, Connecticut.
According to charging documents, he managed to escape from both Pennsylvania and Arizona state police - evading both times by running from his vehicle while being pursued.
Authorities say he also stole several cars as he fled.
Byers, who had been staying with a woman in Connecticut, regularly attended a gym in Greenwich, according to the Greenwich Time newspaper.
During the hold-ups, he covered his face with a bandanna and wore Chuck Taylor All-Stars shoes as well as a Hugo Boss jacket. He also appeared to be holding a handgun, the newspaper reported.
He was previously charged with burglary in California after he was accused of stealing gym equipment.
Byers faces up to 20 years in jail and will be sentenced in January.
---
You might also be interested in
South Carolina woman's black eyeballs mugshot goes viral
'Hot criminal' Jeremy Meeks gets modelling contract
'World's hottest felon' Jeremy Meeks banned from entering the UK