Corey Feldman reports child abuse claims to police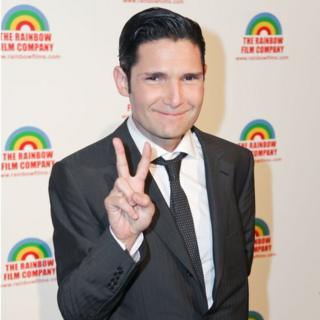 Eighties child star Corey Feldman has filed a report with police after vowing to expose an alleged paedophile ring in Hollywood.
Los Angeles Police Department confirmed they are launching an investigation after receiving the actor's report.
LAPD did not confirm the nature of the allegations. Feldman's spokeswoman did not respond to a request for comment.
Feldman, now 46, has long alleged Hollywood figures molested young actors including himself and Corey Haim.
He appeared last week on The Dr Oz Show, announcing a $10m (£7.6m) fundraising campaign for a film he wants to produce about the alleged abuse scandal.
"Right off the bat, I can name six names, one of them who is still very powerful today," Feldman said.
In his 2013 autobiography, Coreyography, Feldman detailed abuse he says he and Haim suffered in Hollywood.
He blamed it for Haim's drug problems and untimely death in 2010 at the age of 38.
Feldman told ABC's Nightline in 2011: "There is one person to blame in the death of Corey Haim, and that person happens to be a Hollywood mogul.
"And that person needs to be exposed but unfortunately I can't be the one to do it."
Feldman has always declined to reveal names, citing fears of lawsuits.
But he said he had been emboldened to speak out by revelations of Hollywood producer Harvey Weinstein's alleged serial sexual abuse.
It is not clear if there could be a statute of limitations on prosecutions for offences alleged by Feldman.
While he has attracted much support online, Haim's mother, Judy Haim, is among those who doubt Feldman's claims.
She told the Hollywood Reporter: "If he was serious about this, he'd share the information he has with the police."
Feldman posted an essay rebutting Ms Haim's allegation that his movie project plan is a "long con".
He and Haim starred in several films together between 1987-96, including The Lost Boys and Dream a Little Dream.