TripAdvisor to flag hotels with reports of sexual assault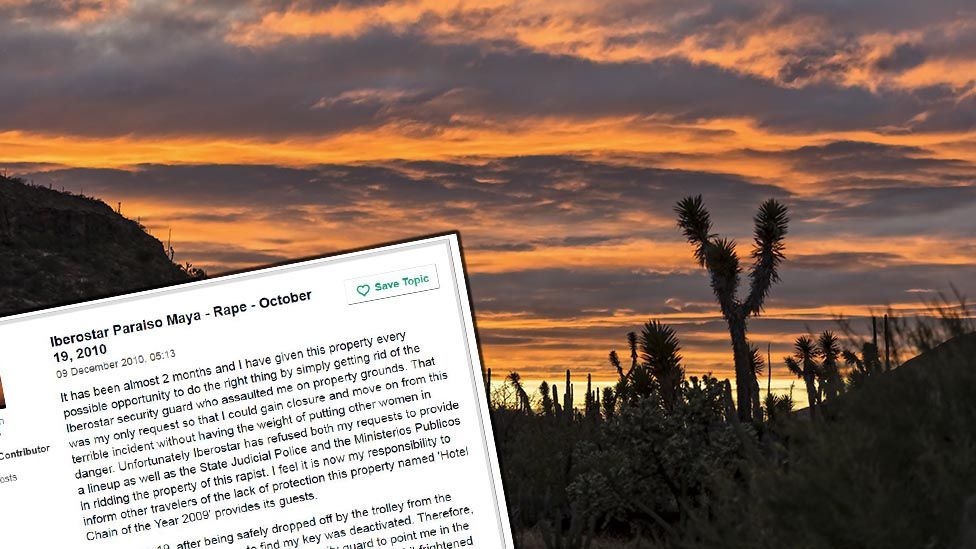 Travel website TripAdvisor has added tags informing users of hotels where sexual assaults have been reported.
The warning badges are designed to identify health, discrimination and safety issues, the company said.
The announcement came after the website was accused of deleting several reviews in which users reported being sexually assaulted at hotels in Mexico.
Three hotel resorts in the Playa del Carmen region of Mexico were flagged with the new warning tag on Wednesday.
"These badges will remain on TripAdvisor for up to three months; however, if the issues persist we may extend the duration of the badge," TripAdvisor spokesman Kevin Carter told the New York Times.
"These badges are intended to be informative, not punitive," he added.
Kristie Love, 35, was reportedly told her 2010 forum post was deleted several times because it violated the company's "family-friendly" policy.
The newspaper spoke to other women who were allegedly assaulted at the same hotel and also had their reviews deleted by TripAdvisor.
More than 400 million people visit TripAdvisor every month, according to CBS News.
Customers who visit flagged pages will now see a small red box at the stop stating: "TripAdvisor has been made aware of recent media reports or events concerning this property which may not be reflected in reviews found on this listing.
"Accordingly, you may wish to perform additional research for information about this property when making your travel plans."
Decisions to add or remove badges will be made by a committee of employees, Mr Carter said.
The company has also announced a new policy to explain to users why reviews or forum posts are deleted.
If one is removed, TripAdvisor said it will "be more clear about the reasons the review doesn't meet guidelines and what part of it is in violation".
The move comes amid mounting allegations of sexual misconduct against prominent men, after dozens of women accused Hollywood movie mogul Harvey Weinstein of sexual assault or harassment. He has denied the charges against him.