Walmart shopper wins $7.5m for watermelon mishap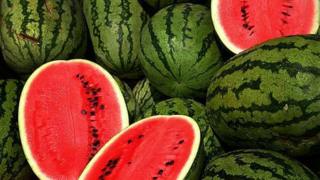 A jury has awarded $7.5m (£5.7m) to a customer who was injured while picking up a watermelon at a Walmart in the US state of Alabama.
Henry Walker's foot got stuck after he stepped on a wooden pallet to get one of the fruits in July 2015.
Mr Walker, who was 59 at the time, fell over and broke his hip and foot, he told the court in Phenix City.
Walmart maintained the display was safe and they will keep using it. They also plan to appeal against the verdict.
Mr Walker, a retired army sergeant, won $2.5m in compensatory damages and $5m in punitive damages.
"It was a fair verdict because Walmart just didn't care," Mr Walker's lawyer, Charlie Gower, told the Columbus Ledger-Enquirer.
"They should have had something to cover up that pallet so someone's foot couldn't get caught in it, and they didn't."
The jury heard how Mr Walker had previously played basketball three times a week, but now has to use a mobility walker, AL.com reports.
Walmart says there is nothing dangerous about the display, which is used at stores around the country.
They claim that any injury incurred by the customer was due to his own negligence.
"Walmart continues to display watermelons in the same manner as it did on June 25, 2015," the Arkansas-based company in a court filing on Wednesday.
"These displays come to the store from the producer already packaged and ready to be dropped and displayed," they added.
A spokesman for Walmart said the damages are excessive, and they intend to appeal.