Three Canadians charged in naked car crash in Alberta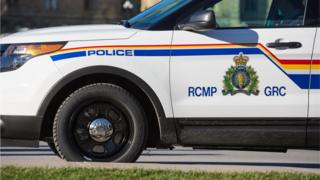 Three Canadians who were involved in a bizarre car crash while naked have been charged with kidnapping and resisting arrest.
They were among five nude people detained after a two-vehicle collision on a rural highway last Monday about 30km (20 miles) south of Edmonton.
The man and two women appeared in court in Leduc, Alberta, on Thursday.
They allegedly kidnapped a man, a woman and a six-week-old baby from a home and forced them into a vehicle.
The abducted man, who was being held in the car boot, somehow managed to escape, police say.
Shortly after so did the woman with the baby.
A man who was driving to work along the highway picked up the three victims after he saw them shoeless on the road.
The Royal Canadian Mounted Police (RCMP) says the BMW driven by the alleged kidnappers then apparently deliberately rammed the Good Samaritan's vehicle, before ending up in the ditch at the side of the road.
Those allegedly kidnapped were not injured.
The three accused cannot be named due to a court publication ban. Two female minors who were also arrested at the scene were later released with no charges.
Derek Scott, the employer of the man who picked up the three victims after their escape, witnessed the arrest.
He told the Canadian Press it was a "wild fight" to get the female suspect out of the car.
He also described the "walk of shame" taken by the nude kidnappers.
There has been no explanation as to why five people were not wearing any clothes on a Monday morning in subzero temperatures.
Police say they believe it was a "targeted incident" and that the kidnappers knew the three people they took from the home.
The RCMP has called the ongoing investigation "convoluted", adding that drugs or alcohol may have been a factor.
A relative who spoke to CTV News and the Canadian Press said the whole incident was completely out of character for those involved.
He believes they unknowingly ingested a "herbal tea" brought back from an overseas trip that may have had hallucinogenic properties.
"It's a scary thought thinking, 'Oh, let's try this tea that we purchased,'" the relative told the Canadian Press.
"And then all sit down thinking they're just going to have a nice morning and end up in that circumstance."