Arctic highway opens remote Canadian hamlet to the world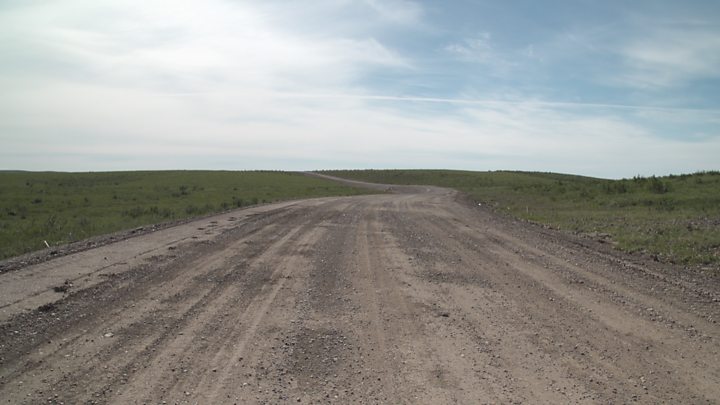 Canada now has its first permanent year-round highway straight to the Arctic Ocean.
The Inuvik-to-Tuktoyaktuk highway has officially opened, marking the completion of a project decades in the making.
It opens the hamlet commonly known as Tuk, once only accessible by plane or winter ice road, to the outside world.
The new 138km (85 miles) all-weather road extends the Dempster Highway from the Yukon to the northern coast.
The connection means Canada will be linked by land all year to its three coasts - Atlantic, Pacific and Arctic.
The C$300m ($235m; £180m) all-weather road is expected to reduce the cost of living for the remote Inuit community on the edge of the Arctic Ocean's Beaufort Sea.
Food prices are high in the community of about 930 people in the Northwest Territories with supplies flown in from Inuvik, a town of about 3,200 people, during the summer months.
The new highway is also expected to bring more tourists and open up the region in the longer term for the development of natural resources, including currently untapped natural gas fields.
The idea for an all-weather road first came about in the 1960s but it took decades for the plan to come to fruition as various governments studied the project and completed environmental assessments and consultations.
Engineers also had to address the challenges of building a road on complex terrain and protecting the permafrost, the perennially frozen subsoil. It also has to withstand extreme weather.
Construction of the highway began four years ago.
There will also be a permafrost monitoring network long the highway that will be used for global permafrost and climate change research.
An official motorcade made the roughly three-hour journey from Inuvik to Tuk on Wednesday to mark its opening.