Bearded Canadians pose as 'mermen' for charity calendar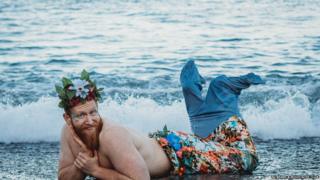 Forget Ariel - bearded Canadian mermen are the hottest fish in the sea.
Pictures of members of the Newfoundland & Labrador Beard and Mustache Club posing as sultry mermaids on the beach have gone viral online.
They took the photos for a calendar to raise money for Spirit Horse, a horse-therapy charity that helps youth and adults learn life skills.
The calendar's overnight popularity caused them to delay their shipment so they could print more copies.
Club founder Hasan Hai told the CBC the calendar provides a wholly "different take on what manliness and masculinity looks like."
"People blowing kisses at one another, guys holding hands, being whimsical and silly - it's a lot of fun," he said.
Mr Hai said while the experience liberating psychologically, the photoshoot was physically demanding.
"Moving around in a fishtail is not as easy as you would think," he said.
"When the camera's not running, there's a lot of hopping involved - and squirming."
About 30 men posed for the calendar, which is called "Merb'ys". The portmanteau combines two words, mermaid and "b'y", which is slang in Newfoundland for "buddy".