US Marine who lost both legs running 31 marathons in a month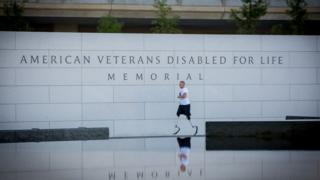 A former US Marine who lost both his legs in an explosion in Afghanistan plans to complete his 31st marathon in as many days on Saturday.
Rob Jones has invited the public to accompany him as he runs around Washington DC's war memorials to mark the US Veterans Day holiday.
Mr Jones, who wears prosthetic legs to run, has embarked on other endurance challenges to raise money for soldiers.
"My purpose is to help out my brother veterans," he said.
"If you do something greater than yourself, it'll bring out the best of you," the former Marine corporal said.
Saturday's run will complete his self-imposed challenge to run 31 consecutive marathons in 31 days in 31 different cities.
But the veteran of wars in Iraq and Afghanistan has previously embarked on other journeys, raising more than $100,000 dollars for veterans.
In 2012 he won a bronze medal for rowing at the Paralympics in London, only two years after losing his legs to a Taliban landmine.
The following year, he biked over 5,000 miles from Maine to California, riding through the winter.