Alex Azar unveiled as Trump's pick for health secretary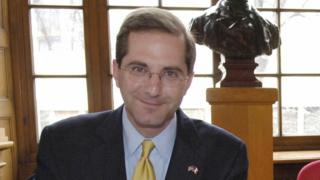 US President Donald Trump has nominated a former pharmaceutical executive to serve as his next health secretary.
Alex Azar was deputy health secretary under George W Bush and a top executive of pharmaceutical company Lilly USA until January this year.
"He will be a star for better healthcare and lower drug prices," Mr Trump said in a post on Twitter.
Mr Azar would replace Tom Price, who resigned in September after it emerged he spent up to $1m on private travel.
As head of the Health and Human Services (HHS) agency, Mr Azar will be tasked with spurring the Republican effort to scrap Obamacare.
Republicans in Congress have so far been unable to repeal the 2010 healthcare law.
During his campaign, Mr Trump frequently attacked drug manufacturers for the high cost of medications, saying the industry was "getting away with murder".
Mr Azar, 50, will also play a role in the government's effort to tackle the opioid epidemic, which is largely fuelled by legal pain killers.
Last month, Mr Trump declared the drugs crisis a "public health emergency", though he did not request any new funding from Congress to stem the rate of overdose deaths, which kill at least 140 American each day.
Opioid crisis: Five ways to tackle the US drug epidemic
Opioid crisis: Morgue transport costs double in West Virginia
Mr Trump's nominee to be the US drug czar withdrew from consideration after an investigation by the Washington Post and CBS News found he had sought to prevent drug enforcement authorities from halting suspicious shipments of legal opioids.
Mr Azar does bring previous experience working in the department he has been tasked to lead.
From 2005-07 he served as deputy secretary of the HHS under former President Bush.
For four years beforehand, he served as the agency's general counsel.
Mr Azar must first be approved by the Senate before he can take up the post.