Why I bought my six-year-old daughter a drag racer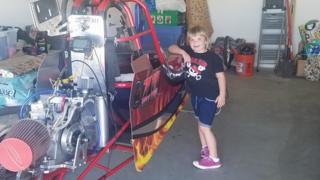 When Adeline Porcho's sixth birthday came around she was hoping for an extraordinary present. A bike, however, seemed far too slow. What Adeline really wanted was a drag racer.
"She has been wanting a junior [racer] for a couple of years," says her father, Stephen Porch. "For her birthday she got her dream, her very own dragster. She's been learning how to drive and how to run the car and will start competing next year."
The idea of a child racing at high-speeds before they can even reach the pedals of a normal car may seem strange, but the sport of junior drag racing is growing.
There are competitions around the world, from the US to Australia, and Facebook groups with hundreds of members where parents discuss the sport and sell their racers and equipment.
The premise of drag racing is simple. The US-based National Hot Rod Association (NHRA) defines it as "an acceleration contest between two vehicles over a measured distance".
In adult races that distance is usually a quarter of a mile (400m), but junior racers aged between eight and 18 compete over a shorter distance of no more than an eighth of a mile (200m). The top speed these junior racers can hit is 85mph (135km/h).
Stephen, who lives in California, has been drag racing for more than a decade and says he introduced his daughter to the sport because he has "seen how positive it is for the kids".
"They learn team work, how to win, and more importantly how to lose", he says.
But, unsurprisingly, junior drag racing also has its risks. It has come under increased scrutiny following the death of an eight-year-old girl who crashed her car on a track in Australia.
Anita Board had been attempting to gain her licence for junior dragster racing when her vehicle hit a concrete barrier. Following the accident, Western Australia suspended junior racing so a full investigation could be carried out.
The Australia National Drag Racing Association (Andra) said: "Junior racers must adhere to stringent safety rules and regulations regarding safety equipment, and their dragsters must meet specific safety requirements."
Do accidents like this worry Stephen? "Accidents don't scare me. My daughter knows there is always a possibility of wrecking. You never say if you wreck, it's always when you wreck," he says.
A basic junior dragster costs around $5,000 (£3,800) but Stephen bought Adeline's car second-hand. "If the car is set up correctly and you have talked to and explained to your kids what to do in an accident they will be fine," he says.
"It's up to the parent to ensure the car is safe and in good working condition before they send their son or daughter down the drag strip."
As well as parents taking responsibility for their child's safety, there are strict precautions in place.
A spokesman for The Santa Pod Racing Club in the UK told the BBC that children must wear protective clothing that complies with international standards. Their cars are tested regularly, their speeds are limited, and they must do monitored laps before they're deemed fit to race.
These safety measures become more stringent the younger the driver is.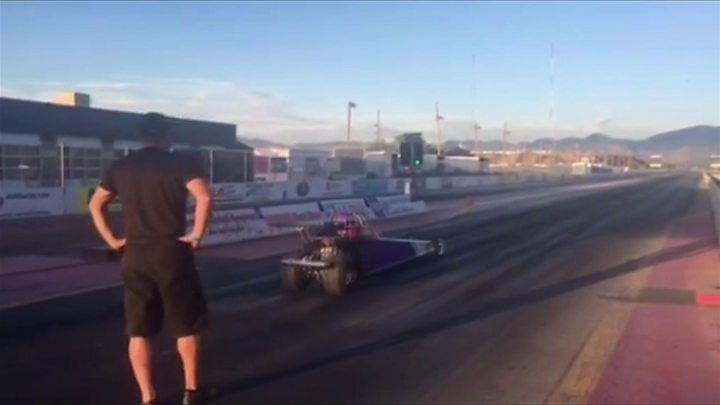 Aaron Olivarez, himself a top drag racer, says the NHRA has given him "tremendous guidelines to ensure safety". His nine-year-old daughter, Ava, has grown up around racing and expressed an interest in the sport shortly before her eighth birthday.
"At each event, a rigorous tech inspection is done to ensure the car is safe and the components are in good working order.
"There is an emergency switch both inside and outside of the car for the driver or someone outside to immediately stop the engine in the event of an emergency," he says.
"I've enjoyed watching her grow as both a racer and a young lady. She loves the friends that she has made and she loves to drive fast", he adds.
Aaron compares the "controlled environment" of the racing track to the dangers of public roads.
"Every day we get in vehicles weighing thousands of pounds on open roads that have dozens of cars around us with drivers that are often distracted. The children, when they are racing, are completely focused," he says.
"That is why I say they are safer on the racetrack than on the open road."