US Senator Bob Menendez's corruption case ends in mistrial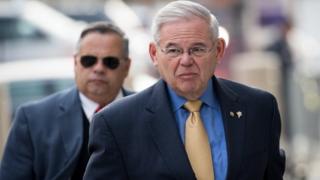 A New Jersey judge has declared a mistrial in US Senator Bob Menendez's bribery case after jurors failed to reach a verdict for more than a week.
The New Jersey Democrat was accused in 2015 of accepting gifts from a Florida eye doctor in exchange for political influence with government officials.
Mr Menendez and his co-defendant, Dr Salomon Melgen, deny the allegations.
It is unclear if the Justice Department will re-try Mr Menendez, who is up for re-election in 2018.
Jurors sent a note to US District Judge William Walls shortly before noon local time on Thursday stating that they reviewed the evidence "slowly and thoroughly and in great detail", but remained deadlocked after a week of deliberations.
The two men faced 18 counts of corruption charges, including running a bribery scheme between 2006-13.
Prosecutors allege that Dr Melgen showered Mr Menendez with lavish gifts, including private jet flights, luxury hotel reservations and nearly $750,000 (£569,000) in campaign contributions.
Mr Menendez is also accused of lying to the government about his finances for failing to report gifts from the doctor - a move he claimed was an administrative oversight.
The senator allegedly returned the favours by advocating for Dr Melgen's business interests, including by intervening in the doctor's $8.9bn Medicare billing dispute.
The Florida ophthalmologist attracted attention when government data revealed that he received more money from Medicare reimbursements in 2012 than any doctor in the US.
Prosecutors also claimed that Mr Menendez secured visas for Dr Melgen's former girlfriends and helped lobby US officials on a port security contract the doctor owned in the Dominican Republic.
Both men argued the gifts were because of their long-time friendship.
The senator railed against federal investigators in a news conference outside the court on Thursday, adding that the way the case was tried was wrong.
"I want to thank the jury... who saw through the government's false claims," he said, praising them for their "service" and "sacrifice".
He also thanked his family, Democratic Senator Cory Booker and Republican Lindsey Graham, who both testified on his behalf as well as his lawyers, who he said "methodically tore apart the government's case".
Dr Melgen is awaiting sentencing for a previous conviction on defrauding Medicare.
Senate Republican leader Mitch McConnell said on Thursday he would call on the Senate Ethics committee to "immediately investigate Senator Menendez's actions which led to his indictment".
He added the trial "shed light on serious accusations of violating the public's trust as an elected official, as well as violations of the Senate's Code of Conduct".
Mr Menendez has indicated that he plans to seek re-election next year.