Texas woman with anti-Trump slogan on vehicle is arrested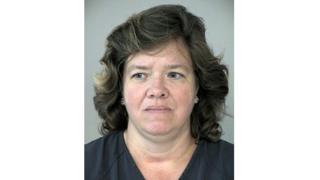 A Texas motorist whose vehicle window decal directed an expletive at US President Donald Trump and his voters has been arrested.
Karen Fonseca, 46, was detained on Thursday on an outstanding warrant and has been freed on bail.
Her arrest came a day after a local sheriff warned that the driver of the pick-up truck could be charged with disorderly conduct.
The lawman's comments provoked an outcry over free speech.
Fort Bend County Sheriff Troy Nehls' office said he had deleted his Facebook post, which included a photo of the vehicle's sticker, because his family was being threatened.
"The objective of the post was to find the owner/driver of the truck and have a conversation with them in order to prevent a potential altercation between the truck driver and those offended by the message," the sheriff's office said on Thursday afternoon.
"Since the owner of the truck has been identified, the Sheriff took down the post. Due to the hate messages he has been receiving towards his wife and children, the Sheriff will not be commenting on the matter further."
Ms Fonseca was detained over an outstanding felony warrant from Rosenberg Police Department for possessing and using a fake identification in June 2015, report local media.
Bail was set at $1,500 (£1,135), and she was released from jail after an hour.
She told KDSK she was certain she had been arrested because of the window decal.
"People abuse the badge, and in my opinion, money talks," she told the Dallas news station.
"When you're in politics, people know how to work the system."
Before her arrest, she said she had no intention of taking down the sticker.
"It's just our freedom of speech and we're exercising it," she told the Houston Chronicle.
Mrs Fonseca, who shares the vehicle with her husband, said she had affixed the custom-made decal after President Trump was sworn into office.
"We wanted our statement out there. That's our opinion on him," she told the newspaper.
In a press conference on Wednesday, Sheriff Nehls argued that the sticker could cause a "breach in the peace".
The Republican lawman is said to be considering a bid for election to Congress.
The American Civil Liberties Union (ACLU) had responded to the sheriff on Facebook. "You can't ban speech just because it has 'f@ck' in it.
"Hey truck owner, feel free to contact the ACLU of Texas."
Fort Bend County district attorney John Healey said his office had no plans to file charges over the sticker.