UK's Yo! Sushi buys Canada's Bento Sushi in $100m deal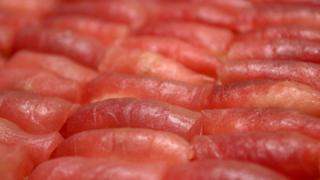 UK-based chain Yo! Sushi is buying Canada's Bento Sushi in a C$100m ($78.2m; £59m) deal.
The restaurant group announced the acquisition of North America's second largest sushi chain on Monday.
The combined business will become one of the largest sushi companies outside Japan.
Together, the two restaurant groups had sales of £175m ($232m) over the last 12 months.
Bento was founded in Toronto, Canada, in 1996, has over 600 locations and supplies sushi to 1,700 partners, including supermarkets.
London-based restaurant group Yo! Sushi has 97 restaurants across Europe, the Middle East and Australia.
The combined new restaurant group is eyeing continued expansion, especially into the US market.
"This acquisition takes Yo! into the next stage of its development, and creates the first global multi-channel Japanese food purveyor," said company CEO Robin Rowland.
Yo! Sushi was acquired by Mayfair Equity Partners, a buyout and growth capital investor, in November 2015.
Bento founder Ken Valvur and chief executive Glenn Brown, will both join the board Yo! Sushi as part of the deal.
They will also be "significant shareholders" in the newly combined restaurant group.