Charles Manson: Where will he be buried or cremated?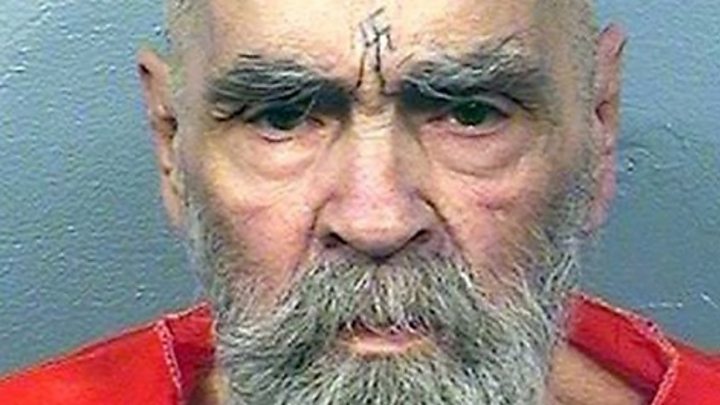 Charles Manson, the infamous US cult leader who inspired a wave of savage murders in the 1960s, is dead. And now the question is - what should happen to his body?
Authorities in California will be seeking a solution that balances the practicalities with respect for his victims' families.
They will also be keen to avoid any kind of memorial that could become a macabre shrine.
Here's what we know about the possible funeral options...
Where is the body now?
The sheriff's office in Kern County, California has told the LA Times that Charles Manson's body is in its custody, after he died of natural causes on Sunday night.
Under state law, Manson's next of kin has 10 days - until 29 November - either to claim the body, or refuse to do so.
If his relatives aren't keen, it will fall to prison officials to arrange his burial or cremation.
Normal process in Kern County is for unclaimed remains to be interred at Union Cemetery in Bakersfield, according to local newspaper The Bakersfield Californian.
Who will pay for the funeral?
If it is not conducted privately, that task falls to US taxpayers - like the estimated $2.3m (£1.7m) cost of keeping Manson behind bars for more than four decades.
However, Manson's grandson, Jason Freeman, 41, has reportedly told US media outlets he is looking into the matter.
The New York Daily News quoted him as saying: "I'm going to move towards having a proper burial.
"I will definitely speak with the inner circle of people who love my grandfather and who may know more of where he would want to be. I'm working on doing my part."
Mr Freeman is alleged to be Manson's only known relative - the son of his only child, Charles Manson Jr, who killed himself in 1993.
He will now be obliged to prove this to prison authorities.
Who gets his possessions?
It isn't clear yet if Manson left a will. If he didn't, and nobody comes forward, his assets will be inventoried. Any funds could be used to cover cremation or burial expenses.
Any other money or personal effects would then be held for one year. After that, Manson's possessions would become state property and could theoretically be auctioned.
Whether the state of California would consider that appropriate given Manson's tendency to attract disturbed "groupies" who glamorise his crimes is questionable.
What's happened to other dead serial killers?
The issue came up in the UK earlier this month, after a High Court judge ruled that child killer Ian Brady's remains should be disposed of with "no music and no ceremony".
Brady, widely known as the Moors Murderer, tortured and murdered five children in the 1960s, in a killing spree whose horror still resonates in Britain today.
His ashes were disposed of at sea, in an urn made of salt, in the middle of the night.
In the US, mass murderer Ted Bundy was executed for his terrible crimes in 1989, and his body cremated in Gainesville, Florida. There was no public funeral.
Bundy, who confessed to more than 30 murders, had requested that his ashes be scattered in the Cascade Mountains in Washington state, where at least four of his victims were found.