White House Thanksgiving: A history of US presidential turkey pardons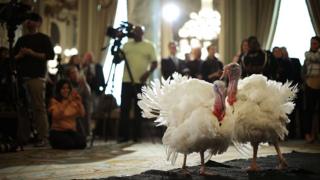 The Thanksgiving turkey pardoning has become an annual tradition at the White House, but Tuesday's will be Donald Trump's first.
Wishbone and Drumstick arrived in Washington DC at the weekend, and are facing-off in an online poll to see who should be pardoned by the president (although neither will be eaten).
The tradition can be traced back to President Abraham Lincoln in 1863.
Historians claim he spared a turkey's life after his son, Tad, befriended it.
But yearly pardoning became an "official" tradition only under George H W Bush, when the former president spared a turkey's life in 1989 as animal-rights activists protested nearby.
"'Reprieve,' 'keep him going', or 'pardon': it's all the same for the turkey, as long as he doesn't end up on the president's holiday table," he said.
Many people believe the custom was started 70 years ago by Harry Truman, because he was the first president to receive a turkey on behalf of the poultry industry as a whole. Individual farms had been gifting presidents birds since the 19th century.
His government launched a campaign in 1947 to encourage people to forego eating poultry and eggs on Thursdays, in order to conserve supplies to send to post-war Europe. But Thanksgiving, Christmas and New Year's Day fell on Thursdays that year causing outrage.
Poultry growers sent crates of live chickens to the White House as part of a "Hens for Harry" protest campaign.
Other presidents before Mr Bush Snr did spare birds lives, including President John F Kennedy - who gave an unofficial pardoning days before his assassination in 1963. The light-hearted event with media presence would set the tone for today's presentations.
Presidents Nixon, Carter and Reagan were also reported to have spared some gifted turkey's lives by sending them to live on farms.
Under President Barack Obama, the event became an opportunity for his daughters to make rare public appearances. There has been speculation as to whether 11-year-old Barron Trump will appear at Tuesday's event.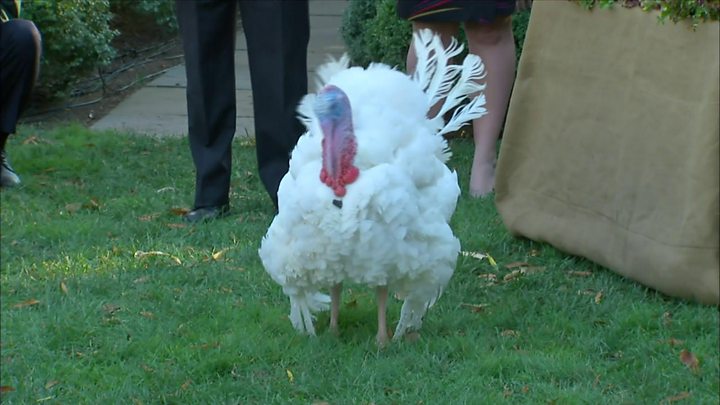 Mr Obama became known for his "dad jokes" at the pardonings, in 2016 invoking questionable turkey puns like "Yes we cran!".
This year's birds, Wishbone and Drumstick, are currently staying at the Willard Intercontinental hotel, where all White House birds have stayed since 2004.
Videos of them messing up their beds with sawdust were posted by the White House social media team.
Their luxury hotel stay is financed by the National Turkey Association, which continues to donate birds each year. This year's birds were raised in Alexandria, Minnesota, by the group's chairman.
Turkey is the favourite US food for the Thanksgiving holiday, with an estimated 46 million consumed on the day annually.
Top-Trump turkey stats
The Trump administration released statistic cards for both birds online alongside a poll to see which the public thought should be officially pardoned.
The poll spurned some users on social media to make jokes about whether he should use his pardoning on members of his administration, because of the ongoing Russian collusion investigation.
Both chosen bird and its "wingman" back-up will then join last year's turkeys Tater and Tot at the "Gobbler's rest" enclosure at Virginia Tech University.
Mr Trump will probably be hoping the presentation in the White House Rose Garden runs more smoothly than his last photo opportunity with a bird.
In 2015 footage of him trying to pose with an American bald eagle for Time magazine became a meme that was widely shared online, after it flapped at him and messed up his hair.