John Conyers: Longest-serving congressman denies harassment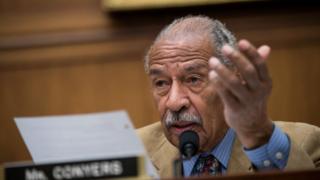 The longest-serving member of the US Congress has "expressly and vehemently" denied allegations that he sexually harassed staff members.
But John Conyers, a Michigan Democrat, appeared to confirm the payment of a settlement to one of his accusers.
A staff member claimed she was fired for refusing to "succumb to sexual advances" by the 88-year-old.
The House Ethics Committee has launched an investigation into the prominent civil rights activist.
Mr Conyers first joined Congress in 1965 and is a member of the powerful House Judiciary Committee.
'Using Congressional resources'
It was reported on Tuesday that he had paid $27,000 (£20,000) in exchange for the confidentiality of a former staff member who claims she was fired for refusing sex.
He was also accused of repeatedly making sexual advances and inappropriately touching other female employees, according to signed legal documents seen by Buzzfeed.
One former staff member reportedly alleged in an affidavit that one of her duties was "to keep a list of women that I assumed he was having affairs with and call them at his request and, if necessary, have them flown in using Congressional resources".
The documents reportedly came from the Congressional Office of Compliance, which oversees disputes among Capitol Hill employees.
The files have not been independently verified by BBC News.
CBS sacks talk show host Charlie Rose
'Fierce advocate for equality'
Mr Conyers said: "My office resolved the allegations - with an express denial of liability - in order to save all involved from the rigors of protracted litigation."
In his statement, he called himself a "fierce advocate for equality in the workplace".
He also pledged to support "employees who believe they have been harassed or discriminated against".
"That said, it is important to recognise that the mere making of an allegation does not mean it is true," he added.
"The process must be fair to both the employee and the accused."
Mr Conyers pledged to "fully co-operate" with any congressional inquiry.
House Democratic leader Nancy Pelosi had urged the ethics committee to investigate any "credible allegation of sexual harassment".
She said in a statement that lawmakers must have "zero tolerance for harassment, discrimination, bullying or abuse".
Republican Speaker of the House Paul Ryan called the Conyers report "extremely troubling".
"People who work in the House deserve and are entitled to a workplace without harassment or discrimination," said Mr Ryan.
Last week, the House speaker announced all lawmakers and staff members must undergo anti-sexual harassment training.
The Conyers allegations surface a day after Democratic Senator Al Franken was accused of sexual harassment by a second woman.