Where is the remotest spot in the United States?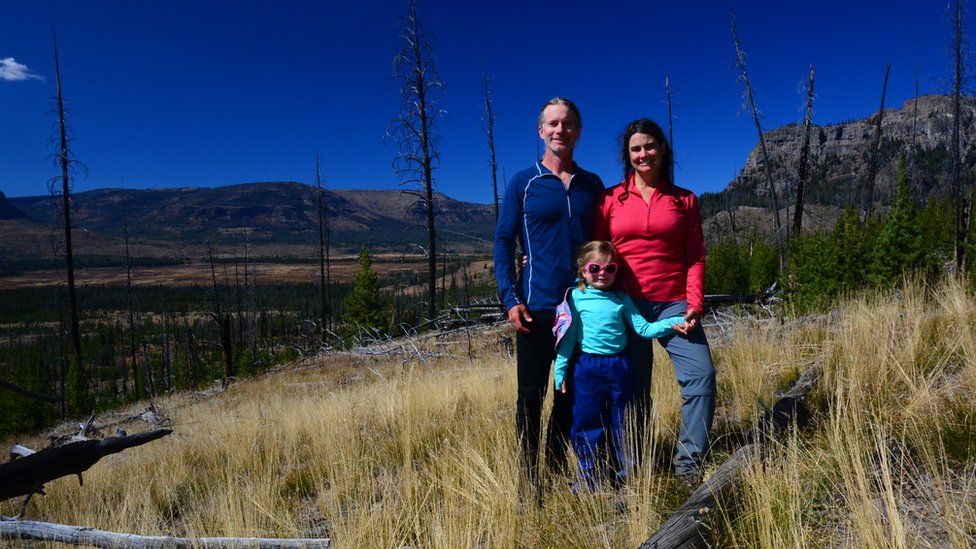 A pair of scientists from Florida, and their eight-year-old daughter, are visiting the remotest spot in every US state.
The epiphany happened as Ryan Means walked down a beach in Florida.
The beach was crowded. He was frustrated. Inside him, he says, there was a "mid-life crisis kicking around".
"There were people everywhere," he remembers. "I'm thinking, how can I get as far away from this as possible in Florida?"
As he looked at the crowds, "a word started bouncing like a pinball" in his head.
Ryan didn't know where the remotest spot in Florida was. "I thought it might be the Everglades, it might be wherever," he says.
But he knew someone who could help.
Ryan's wife, Rebecca, is a "GIS guru". (A geographic information system is a way of showing data - for example, land use in a state).
"With Rebecca's expertise, we could calculate a set of co-ordinates as far away as possible from human structures," says Ryan.
"And then - holy cow - once it's sitting there on a map, we can go to it."
Ryan ran home - "literally ran," he says - and shared his plan with Rebecca. Over wine and beer, their ambition grew.
"We realised if we can do this in Florida," says Ryan, "we can do this for every state in America."
Ryan and Rebecca met in 2000, on a balcony at a house party in the woods.
Ryan was doing a master's in wildlife ecology and conservation at the University of Florida in Gainesville. Rebecca was working for a professor after finishing her master's in forestry at Texas A&M.
They shared a love of exploring. In 2004 they spent five weeks in Alaska, including nine days alone - and with no phone - in the Arctic wilderness.
They were dropped off and picked up by bush plane: the meeting point was a set of moose antlers by a river.
Ryan, 45, and Rebecca, 44, now live in Wakulla County, Florida, around 30 miles south of Tallahassee. They work for the Coastal Plains Institute, a non-profit environmental group.
In 2008 they had their daughter, Skyla, now almost nine. They were both determined it wouldn't stop their adventures.
"Just because we had a baby, it didn't mean we weren't going to go backpacking," says Rebecca. "We were just going to do it as a family."
Their first task was to define "remote". As scientists, Ryan and Rebecca wanted something quantitative - a measurement that worked in every state.
They settled on "the furthest distance from a road or town". But then, they say, "it got trickier".
What is a road? Anything paved, unpaved, public, or private, they decided. For example - beaches that allowed cars counted as roads.
They also decided the remote spot must be "high and developable". It can't be in the middle of a lake, and it can't be a flood plain.
Using data from state authorities, Rebecca plotted every public road onto a map of Florida. She then calculated the co-ordinate that was furthest from any of them.
Before setting off, they checked the area using other sources, including Google Earth. If they found a previously-unknown private road, they recalculated.
The remotest spot in Florida, they learned, was 17 miles from a road. It was in the Marjory Stoneman Douglas Wilderness - part of the Everglades National Park.
Reaching the spot required a three-day round trip from Everglades City in their basic, motorised boat. Ryan, Rebecca, and Skyla - then ten months old - were joined by their friend, Steve Johnson.
After one night in the boat, they reached the Florida remote spot on 30 December 2009. The elation, they say, was "hard to describe".
Not everyone shared the elation, however. On reaching the remotest spot in Florida, Skyla decided it was the perfect time - and place - for a nap.
The Means family have since been to the remotest spot in 33 of the 50 US states. At the time of writing, they are on a trip to add another three (Nebraska, Oklahoma, and Texas).
Of the 33, the average remote spot was 6.8 miles from a road, and 0.8 miles from a trail. Almost two-thirds had mobile phone coverage.
In the lower 48 mainland, the place furthest from a road - and therefore the remotest spot on the United States mainland - is in the Yellowstone National Park in Wyoming.
It is 21.7 miles from a road, and required a week-long, 75-mile hike to get there and back. The spot itself is 0.7 miles uphill from the nearest trail.
To deter visitors - and entrepreneurs - they don't reveal the precise location. When the Means family reached it in September 2014, there were contrasting emotions.
"When we arrive, and the GPS goes beep beep beep, it's a euphoria unlike any other," says Ryan. "It must be the same thing for mountain climbers that reach unclimbed summits."
But in Wyoming, and other remote spots, there was a tinge of disappointment.
Rebecca and Ryan are purists. They want to find places as nature intended; untouched by human hand.
Sadly, they say, they haven't found one since the Alaska trip in 2004.
"We were sitting in the Wyoming remote spot, and there was a cabin five-tenths of a mile away," says Ryan.
"You just did not feel as remote as you wanted to be, given the seven days it took to haul your ass in and out of there."
In Idaho they saw a light aircraft within two miles of the remote spot. In Montana they met hunters. In New York and New Mexico, there were rangers' cabins.
Even in Florida, they saw yachts and fishing boats "roaring by" several miles off shore.
Really remote spots, they have learned, are rare. By travelling to 50 of the remotest, Ryan, Rebecca, and Skyla want to highlight their importance.
"The ecological impacts of roads are so numerous," says Rebecca.
"Think about things like invasive species, or the ways roads impact ecological processes - like the migration of animals, water quality, and the way water flows across the landscape."
Ryan and Rebecca say it is "unnecessary" to add more roads to public land such as state and national parks. If they must be built, another road should be removed.
"We hope there are thousands, if not millions, of human beings like us in our country that - whether they know it or not - have a deep desire to experience wilderness," says Ryan.
"Some of us - many of us - like to go to sleep and know we have immense wild places in our country. The ecological web of life is healthier with large, intact wildlands.
"We are entangled in that web. Clearly, if we destroy a certain amount beyond a limit, we may well do us - and every other living thing - a great disservice."
Do you have a picture of you in a remote area of the world? Or of a remote area of the world? Share your pictures at haveyoursay@bbc.co.uk.
You can also share your pictures in the following ways:
Related Internet Links
The BBC is not responsible for the content of external sites.