US gun background checks hit new record on Black Friday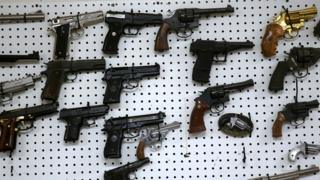 The FBI received over 200,000 requests for background checks to own a gun on Black Friday, overtaking last year's single-day record by nearly 10%.
Black Friday, the day after the US Thanksgiving holiday, had previously set records for the most instant FBI background checks in 2015 and 2016.
The database is meant to prevent criminals and other Americans barred from owning guns from purchasing them.
Last week the US Justice Department ordered a full review of the database.
The FBI National Instant Criminal Background Check (NICS) database system said they fielded 203,086 background checks on Black Friday, a day when US retailers mark down prices on their products to kick off the annual holiday gift-shopping period.
The previous record of 185,713 background checks was set on Black Friday a year earlier, according to figures provided by the FBI.
The FBI cautions that "a one-to-one correlation cannot be made" between checks and actual sales, since one background check may yield several gun sales.
They did not indicate what may have caused the uptick in sales.
Gun sales have generally risen during periods when lawmakers have indicated that they may take action to restrict gun ownership.
Sales rose after former President Barack Obama's election - due to fears he would restrict them - and have fallen since Donald Trump became US president.
Mr Obama had previously told BBC News that his biggest regret as president was not passing "meaningful" gun reform during his time in office.
Last week the Department of Justice ordered a review of the background check system to determine whether law enforcement agencies are properly reporting crimes to the FBI.
The review was ordered by Attorney General Jeff Sessions following revelations that a gun rampage at a Texas church which left 26 people dead was committed by a former US airman who had been legally stripped of his right to own weapons.
Devin P Kelley was convicted of assault and discharged from the military. The US Air Force later admitted that they had failed to notify the FBI's NICS of the gunman's conviction, allowing him to purchase several weapons from legal distributers.