Human rights inquiry into Toronto police racial profiling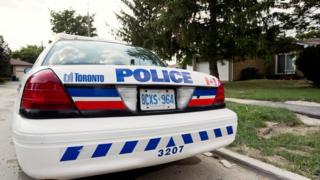 A human rights inquiry will investigate accusations of racial profiling in a Canadian police department.
The Ontario Human Rights Commission launched the probe into the Toronto police department on Thursday.
The inquiry will look at policing practices between January 2010 and June 2017 to see if they discriminated against the black community.
A number of high-profile cases have shed light recently on police policy and use of force.
"The community has waited for over 40 years to see progress towards eliminating racial profiling, and it can't afford to wait any longer," said OHRC Chief Commissioner Renu Mandhane in a written statement.
"Now is the time to pinpoint the problem areas, and do something about them. Ultimately, there is no trust without truth."
The commission has asked police to turn over seven years of data regarding interactions with the black community, including stop and questioning practices, use of force and arrests and charges, and forms of condition and release for various offences, including simple drug possession, obstructing or assaulting a police officer, causing a disturbance and failing to comply with a bail condition.
The inquiry will extend to the Toronto Police Service, its board and the Special Investigations Unit, which investigates police when they are involved in a shooting or accused of assault.
In 2010, the Toronto Star found that black people were more likely to be carded - a practice where police stop and ask for identification without cause, similar to stop and frisk.
The province of Ontario passed a law in 2017 limiting the scope of when police could card. Also that year, an inquiry jury ruled the death of Andrew Loku - a mentally ill father of five who was killed by Toronto police - a homicide.